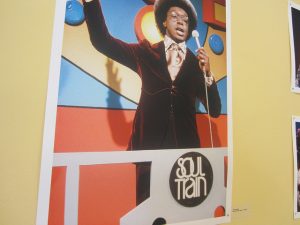 Brown:        Brother, who's backin' you                       on this?
Cornelius:   James, it's just me.
Brown:        Brother, who're you with on                     this?
Cornelius:   James, it's just me.
Brown:        Brother, who's really behind                     this?
Cornelius:   James, it's just me.
August 1970, late afternoon: Something legendary is unfolding right before the eyes of just about every black household in Chicago: "This is Soul Train, the hippest trip in America, 60 non-stop minutes over the tracks of your mind into the exciting world of Soul!" is heard for the very first time on local television. The show's owner, producer, and hippest host in history, Mr. Don Cornelius, steps on stage and starts a new era in African American history. He has no idea his train is heading for television heaven.
Donald Cortez Cornelius was born in Chicago in 1936. He was 26 when Martin Luther King spoke the words "I Have a Dream," 27 when the Civil Rights Act was enacted, and 31 when King was assassinated and the Chicago riots broke out. Cornelius grew up in a deeply segregated society and became strongly immersed in the civil rights struggle. After his television career took off in 1966, he felt offended by the obvious racism on TV and decided to develop a show that reflected positively on African American culture. When Chicago TV station WCIU hired Cornelius, he was already promoting "The Soul Train," a tour of concerts featuring young local talents. WCIU broadcast the show on TV and the rest is history: Soul Train ran continuously over 35 years, aired over 1,100 episodes, featured the biggest names in music, and still remains one of the most popular shows in American history.
Even though Soul Train was not the first of its kind – there had been several others on Chicago TV in the mid-1960s featuring predominantly black musicians and dancers – the show became an overnight hit in Chicago. Within just one season, it was aired across the United States, and the hippest train in America took the entire country by storm.
The immense success Soul Train experienced all over the United States was a result of Cornelius's iconic presence, his knack for connecting entertainment with political activism, and his success in creating an honorable image of the black community. He was not only one of the first African Americans to own a TV show, but he was also the main creative force behind the show. He literally ran from door to door to win over black artists (later the biggest performers would knock on his door to be part of the show) and hired young, talented black dancers who became the show's actual stars with their impressive and all new dance moves. He even established TV ads which exclusively spoke to African Americans, such as "Afro Sheen," a local product manufactured by black-owned sponsor Johnson Products. Soul Train had found its way from a niche audience into the mainstream and became the breaking point not only for black, but also for white artists. It reached its peak in the 1970s when black pop culture was booming – thanks to Don Cornelius and his Soul Train mission.
However, times were changing and so was the nature of music. Soul Train's musical focus, reflecting Cornelius's own taste, was soul, jazz, R&B, and later funk and disco. To his dismay, hip-hop began to emerge in the inner cities and moved into the mainstream in the 1980s. Although Cornelius was admittedly skeptical towards the genre, thinking it didn't reflect on black culture properly, he could not deny its success with the younger generation. From the time he started featuring hip-hop and rap artists, his own connection to the show began to fade and he signed off as its host in 1993. Yet he remained the head and heart of Soul Train until he sold the show in 2008.
Even though Soul Train experienced the greatest success with Don Cornelius as its host, the brand went on succeeding, entertaining and inspiring people across the United States during its entire lifetime and beyond. Many who worked on Soul Train stated that this show had saved their lives by giving them an opportunity to do what they love and be who they are. And it sure did the same for many of its fans.