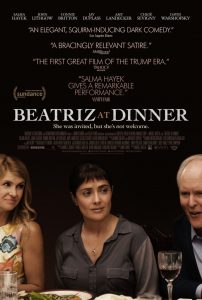 We first see Beatriz (Salma Hayek) going through morning chores, feeding her dogs, and lighting a candle for deceased loved ones, including her dead goat. She's in a rush to her work in a holistic healing firm. Her last patient of the day is a house call for a massage for Kathy, a wealthy woman in a gated community.
After the house call, Beatriz's car won't start, so Kathy invites her to stay for the small dinner party she's hosting for her husband's business associates.
It's the stuff of comedy, a movie you've all seen before: The wealthy matron invites an employee to an important dinner party she's hosting for even wealthier associates. We have rollicking fun watching the crude manners of the outsider exposing the pomposity of the wealthy. At the end, everybody realizes that the simple ways of the poor employee are superior to the smug frivolity of the privileged. Everybody is happy. Everybody learns something.
Spoiler alert: They didn't go that way.