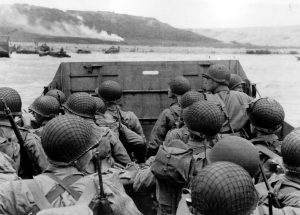 Only a handful of history's myriads of dates is universally remembered even outside the domain of academic history. June 6, 1944, is one of them. It was the day 156,000 Allied troops landed on the beaches of German-occupied Normandy. It was D-Day.
After years of mechanized, millionfold murder in Germany, the Nazis had spread their coldly determined agenda of death and suppression across most of Europe. And in 1944, World War II had already been in its fifth sanguinary year, having wreaked havoc on three continents and afflicted people from almost every corner of the planet.
I've heard people refer to D-Day as Doomsday, and there was a lot of doom that day: More than 10,000 American, Canadian, and British soldiers were killed, wounded, or went missing, and between 4,000 and 9,000 German soldiers never returned from the beaches of Normandy. Other interpretations of the D include Decision Day, Departure Day, and Disembarkation Day. While all those ring true, D-Day is simply a term in American military language applied to the start of any significant military operation. It is a code believed to simply mean Day-Day, like the French equivalent J-Jour, that allows military strategists to talk about an operation without revealing information concerning time or place. Accordingly, there were many D-Days throughout World War II and other wars.
However, since June 6, 1944, the expression is wedded to the beaches of Normandy, both in popular as well as academic history – because the tide began to turn on this D-Day. It was the first step of Operation Overlord (the liberation of France between June and August 1944) which forced Hitler's Germany into a war on multiple fronts it could not win – a war that would finally come to an end a year later. Historians fond of 'what if' games offer a variety of speculative answers to the question about how World War II would have proceeded without the establishment of the Allied Western Front. Even though some of those scenarios are far more extreme than others, they all have one thing in common: They're terrifying.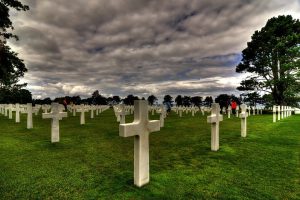 It is wise to keep this in mind when thinking about a day as horrific and gruesome as D-Day. It's a day that can't be celebrated but should be commemorated. For soldiers killed or wounded in action, for all people who suffered in so many ways. And commemorated by all of us who feel something that could perhaps be best described as a historical sigh of relief when thinking about what further tragedy was prevented because of D-Day on the sixth of June in 1944.
On June 5, 2019, over a dozen world leaders and hundreds of veterans gathered in Portsmouth, the southern English port city from where the Allied troops had set off towards the beaches of Normandy 75 years ago. Accordingly, commemorations were held in Normandy a day later. These were the most prominent events of the D-Day commemorations, but only two of many that will take place in France, England, Canada, and the United States until September. Click the link below for a detailed overview of all the events: http://www.dday-anniversary.com/.
66 Total Views, 3 Views Today