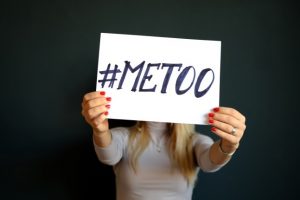 If it wasn't enough that American TV icon and educator Bill Cosby was accused of sexual assault, rape, and battery – to name a few of the allegations – now dozens of women (currently more than 65) have come forward about Harvey Weinstein's inappropriate sexual behavior. Many of these women were previously too afraid to publically share their stories of sexual harassment and assault. Or couldn't because of non-disclosure agreements. Something has to give.
Blaming the victims is not the answer. More women and men (yes, men experience it, too) who have been subjected to unwanted sexual remarks, advances, and violations need to be empowered to break the silence. And those in positions of authority need to take the issue more seriously. A lot more seriously.
The New York Times has recently explored the question: "Why Hasn't Sexual Harassment Disappeared?" And it is worth eleven minutes of your time.
So, why is sexual harassment a matter for English class, you ask? Well, why isn't it? Whether the video is used for listening comprehension, a writing activity, or linked to lessons on the women's movement or gender, this well-made video gives viewers much to consider. Let's not drop the ball. C'mon – this is the 21st century, people.
83 Total Views, 2 Views Today