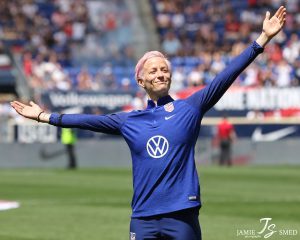 Soccer star Megan Rapinoe has a twin sister, but everyone recognizes that they are fraternal twins because Megan certainly is one of a kind. She's unique from her bright pink hair to her red hot feet. It's her feet that made her famous, starting in 2005 with her role in the NCAA championship win for the University of Portland; she made the U.S. national team the next year.
In the 2011 World Cup, she played in all U.S. games. After one goal, she grabbed a microphone and sang Bruce Springsteen's "Born in the U.S.A." At the 2012 London Games, she scored directly from a corner kick, making her the only player to have done that in Olympic competitions. In this year's World Cup, she scored six goals, one of only four players in the tournament to achieve that. She was the only player in this year's tournament to score two goals each in consecutive games.
Off the field, her mouth and her heart are as active as her feet.

She announced that she is gay in 2012. She and teammate Alex Morgan were the first to sign up to Common Goal, an organization that asks professional soccer players to give one per cent of their salary to soccer-related charities. Other charities she has supported include the United States Olympic & Paralympic Committee, the Gay, Lesbian & Straight Education Network, and Athlete Ally.
Her causes and her charities overlap. This year, she joined a group of other U.S. women soccer players in suing the United States Soccer Federation for gender and pay discrimination. The Federation argues that the men generate more revenue, but an article in the Wall Street Journal disputes the claim.
Her most controversial cause, however, is her ongoing protest against police violence. Many black American football players kneel during the pre-game play of the national anthem in protest of police brutality against African Americans. The act has drawn much criticism, especially from conservative white politicians. In 2016, Rapinoe knelt during the pre-game anthem as an act of solidarity with the protesting football players. She was accused of hijacking the tradition, a remark she called distasteful, especially coming four days before the anniversary of 9/11.
As she continued the protest, she was bombarded with more criticism as U.S. soccer officials responded by adopting a rule that says all players must stand for the anthem. Rapinoe agreed to stand but commented that "using this blanketed patriotism as a defense against what the protest actually is was pretty cowardly." She said she'd abide by the new rule, but would likely not sing the anthem again or put her hand on her heart – and hasn't ever since.
It's a tradition for American presidents to invite sports teams to the White House after they win a championship, and it's not unusual for athletes or entire teams to refuse to go, usually for political reasons. Megan Rapinoe's refusal made news, however with an expletive: "I'm not going to the f***in' White House" she said. It is unusual for American presidents to answer such quotes, but not for this president. Trump responded that she was disrespectful to the country, but Rapinoe stands by her statement, however, with regrets about the swear word.
"She's just a big personality both on and off the pitch," Jill Ellis, the coach of the U.S. national soccer team said. "And I think she honestly thrives in these moments." Rapinoe disagrees, saying: "I don't really get energized by haters, or all that. I feel like there are so many more people that love me, so 'I'm like, "Yay! People love me! This is great! I'm a little more energized by that."
And there is life after the World Cup.
She ain't finished yet:
61 Total Views, 2 Views Today