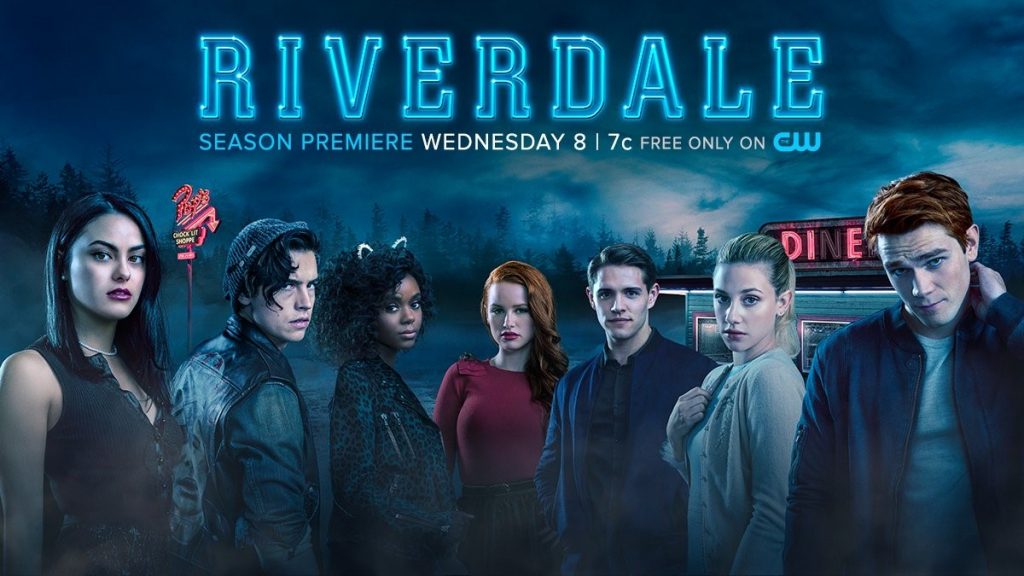 "Our story is about a town. A small town. And the people who live in that town" are the first words we hear on Riverdale (2017 – present). These words are spoken by a narrator who turns out to be a seventeen-year-old boy – with a beanie that looks sort of like a crown – sitting in a diner booth, typing away at his novel in the works.
His name is Jughead Jones (Cole Sprouse), and the people living in the small town of Riverdale are Archie Andrews (KJ Apa), who's torn between being a high school jock and a sensitive musician; the good girl Betty Cooper (Lili Reinhart) as well as rich rebel Veronica Lodge (Camila Mendes). And, of course, all their friends, enemies, frenemies, and parents.
These names may or may not ring a bell because Riverdale and its ensemble of characters are based on the Archie Comics, which have been published since 1942 and have reached iconic fame in the USA. Since then, the characters have appeared in several shapes and forms, even as a virtual band called "The Archies" with their most popular hit song "Sugar, Sugar" from 1969.
This 2017 Archie reboot begins with a murder mystery: Wealthy Jason Blossom (Trevor Stines) was murdered on the night of July 4; apparently, the last person who saw him was his twin sister Cheryl Blossom (Madeleine Petsch). In each episode, the mystery gets more suspenseful, and the viewer encounters shocking revelations about Riverdale's inhabitants, all in line with the premise that there are "shadows underneath"  this innocent small town's façade, as our broody diner novelist Jughead puts it.
At this point, I must admit that I've never read Archie Comics, so I don't know how watching this series feels to fans of the comics or to people who've grown up with Archie and his friends. However, some research reveals that not all of them are too happy with this reboot because too many aspects of the comics have been changed. One example is the family life shown in the series: Most of the family relationships are highly dysfunctional. The disturbingly sociopathic members of the Blossom family, Riverdale's wealthy maple syrup dynasty, are only the tip of the iceberg. Betty Cooper's mother Alice (Mädchen Amick) is a self-centered journalist devoid of integrity who's emotionally abusive towards her daughter; Jughead's father FP (Skeet Ulrich) is the leader of a local gang of criminals; and Veronica's parents are dishonest, greedy, real estate moguls. According to fans of the comics, this is very un-Archielike, and in the speech bubble-version, Riverdale's families aren't evil and dysfunctional, but safe havens. Apparently, only Archie's father Fred Andrews (Luke Perry) lives up to that positive image in recent Riverdale episodes. But maybe that's what it takes to translate a mid-20th-century concept into modern times. It's certainly necessary for this kind of show since its main premise seems to be rosy façades concealing darker truths.
It's safe to say the world of Riverdale feels … hm, special. It feels unreal in an aesthetic way: There are many relics from the 1950s, for instance Pop's Diner and the Twilight Drive-In Movie Theater. Then again, there are cellphones, computers, and a perpetual flow of modern cultural references. On the whole, this creates the compellingly paradoxical effect that Riverdale feels like the present and not quite like the present at the same time. This juxtaposition feels right for a series based on something as vintage as the Archie Comics and fits the earlier mentioned premise well.
At times, however, Riverdale also feels unreal in a probably unintentionally corny and weird way: Some of the things the characters say don't sound natural. Also, some of the characters' actions and conflicts seem forced and lack credibility. To me, the series tries too much to be shocking and suspenseful at times.
But then again, maybe these latter points are just genuine parts of the show. Maybe Riverdale is exactly what it needs to be because it works well and is fun to watch. Right now, we're in the second half of season two, and it looks like millions of viewers aren't going to leave Riverdale anytime soon. And maybe Riverdale's neighboring city Greendale will be worth a visit in the near future: Netflix has recently announced a Riverdale spin-off called The Chilling Adventures of Sabrina, focusing on the famous teenage witch who also originated from the Archie Comics.
78 Total Views, 3 Views Today