When my colleagues and I started this blog, I would have never in a million years thought I would be writing about a bank. But nearly five years later, here I am. I wouldn't even be surprised if this story ends up as a case study in business textbooks around the globe.
Prior to the Amish Conference 2019 on Health & Well Being in Amish Society held recently at Elizabethtown College in Pennsylvania, I went on the Amish Enterprise Tour which introduced conference participants to Amish businesses in the area: Ruth Anna's Gluten-Free (wholesale) bakery, DS Stoves, and The Bank of Bird-in-Hand.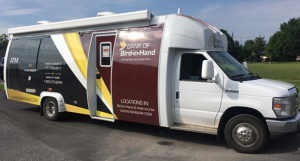 Today, farm land in areas, such as Lancaster County, heavily populated by various Amish groups, is hard to come by and quite pricey. With an average of 6 to 7 children per Amish family, farming is no longer an option for everyone. Thus, more and more Amish, including women, are opening up their own cottage industries and small businesses. Apart from religious considerations that need to be negotiated with their church leadership, Amish entrepreneurs have encountered similar problem to those of many people in mainstream society while starting small and mid-sized enterprises. Branch banks founded in other parts of the country often do not seem to be interested in small loans and fail to understand the local people and their ways.
In order to meet the needs of this segment of the population, 15 people, 10 of whom were Amish men, decided their area needed a community bank. So they did like the Amish do. They rolled up their sleeves and got to work. The Bank of Bird-in-Hand is the result of the joint venture between Amish and non-Amish investors as well as professional bankers. The Gelt Bus (Pennsylvania Dutch for "Money Bus") was only one of the adjustments to traditional banking that had to be made.
Since the Dodd–Frank Wall Street Reform and Consumer Protection Act was passed in 2010, the number of new banks in the U.S. can be counted on one hand. The Bank of Bird-in-Hand in Southern Pennsylvania was the first and as such attracted the attention of The Wall Street Journal and the Economist.  Five and a half years later, The Bank of Bird-in-Hand is now a full-service bank with two additional locations. It combines the latest developments in banking, such as online banking and a new mobile app, with the tradition of small town hospitality, including knowing the customers by name and supporting its local charities and community projects, ranging from hay auctions to a local fire company's 10K marathon.
There were, of course, numerous challenges that had to be overcome. One included how to accurately verify a new customer's identity since the vast majority of the Amish do not have any photo identification. The bank solved that problem by using Amish church records, including birth and marriage certificates. Moreover, the bank's drive-in window was built to accommodate horse and buggies, and at each of the three locations, there are now hitching racks next to parking spaces for cars. They also have at least one staff member or liaison who speaks Pennsylvania Dutch, the first language of the Amish.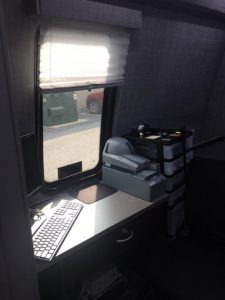 The most innovative of all the accommodations made especially for their Amish customers is, however, the Gelt Bus, the full-service banking branch on wheels pictured above. It enables customers to make deposits and withdrawals, open an account, or use the ATM machine. The Gelt Bus makes regular stops in nearby underbanked areas. It takes roughly one hour for a person travelling by horse and buggy to travel 7 to 8 miles (or 12 to 14 km), so the Gelt Bus makes banking especially convenient for those without cars. Although the armed guard on the Gelt Bus might be somewhat difficult for the pacifist group to swallow, the Amish make up 50+ percent of all the bank's customers. The only major drawback, as I see it, is for potential bar owners and others seeking to open a business that would conflict heavily with Amish beliefs. In that case, the loan application might be marked as an "undesirable credit" and those entrepreneurs would likely have to take their banking elsewhere.
Finally, the bank administrators would like the public to know that their Amish board members are qualified and that their Amish customers are more open to change than many 'English' or non-Amish people might think. The administrators stress that an eight-grade education does not preclude Amish businessmen from making a significant contribution to the bank's board. And believe it or not, the bank's president and CEO is a woman: Lori A. Maley, C.P.A. For those familiar with the patriarchal culture of the Amish, that is a surprising fact. And yes, the younger Amish are apparently "fairly comfortable with an ATM or debit card." So while the Amish may indeed live in many ways like average American farmers did in the 19th century, their culture does evolve and in terms of banking, has indeed arrived in the 21st century.
111 Total Views, 2 Views Today