When my colleagues and I started this blog, I would have never in a million years thought I would be writing about a bank. But nearly five years later, here I am. I wouldn't even be surprised if this story ends up as a case study in business textbooks around the globe.
Prior to the Amish Conference 2019 on Health & Well Being in Amish Society held recently at Elizabethtown College in Pennsylvania, I went on the Amish Enterprise Tour which introduced conference participants to Amish businesses in the area: Ruth Anna's Gluten-Free (wholesale) bakery, DS Stoves, and The Bank of Bird-in-Hand.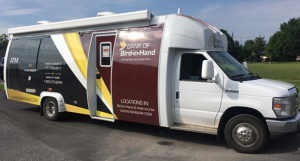 Today, farm land in areas, such as Lancaster County, heavily populated by various Amish groups, is hard to come by and quite pricey. With an average of 6 to 7 children per Amish family, farming is no longer an option for everyone. Thus, more and more Amish, including women, are opening up their own cottage industries and small businesses. Apart from religious considerations that need to be negotiated with their church leadership, Amish entrepreneurs have encountered similar problem to those of many people in mainstream society while starting small and mid-sized enterprises. Branch banks founded in other parts of the country often do not seem to be interested in small loans and fail to understand the local people and their ways.
In order to meet the needs of this segment of the population, 15 people, 10 of whom were Amish men, decided their area needed a community bank. So they did like the Amish do. They rolled up their sleeves and got to work. The Bank of Bird-in-Hand is the result of the joint venture between Amish and non-Amish investors as well as professional bankers. The Gelt Bus (Pennsylvania Dutch for "Money Bus") was only one of the adjustments to traditional banking that had to be made.