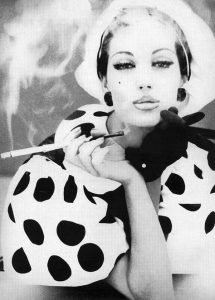 Flash fiction is not only a fun and quick read, but also a fun and not-always-so-quick write. The key is to create a succinct story – ranging from 250 to 1000 words – that preferably focuses on one specific character and ends with a twist or epiphany for the character in question. In my creative writing seminar, "A Way with Words – Away with Words," Rebecca rose to the flash-fiction challenge and composed a three-piece collection entitled The French Connection – an homage to the artsy and quirky characters that populate the Parisian landscape. The first instalment, "Belle Époque," recounts the musings of a somebody from a small town who always dreamed of making it big.
Belle Époque
By Rebecca Lüps
"I could've been somebody, you know," Miss Patty says. "But wait, I am somebody."
She sways through the studio, accompanied by the creaking sound of the wooden floorboards. One hand akimbo, the other one waving her quellazaire like a magic wand. She knows how to create a catwalk out of nowhere. With a swoosh she turns around, her taffeta gown swirls and sucks you in like a whirlpool of octopus ink.
"I was beautiful, I was talented, sitting in a hick town where I could already see all of my potential fade away. Just like the lettering of my father's hardware store." She takes a deep drag.
"The world was waiting for me, but I knew it wouldn't wait forever. I knew I couldn't make it on my own in the big city. And to leave home only to return because I didn't make it? Over my dead body!" Her nostrils flutter as she exhales deeply with her eyes closed, showing her perfectly drawn eyeliner, fully aware that all eyes are on her.
"I needed to be discovered. And God knows, I knew how to turn a man's head around. So when I heard a talent scout was in town, I seized my chance." Her eyes twinkling, her deep voice purring.
"See that picture over there?" She points to a framed photograph on the wall, and even though she tries to play it cool, pride swells in her voice.
"I made that dress myself. Took forever, and my friend Lizzy had to sew me into it. But it was worth all the effort. I met husband number 1 that night. I was singing 'Get Happy' by Judy Garland. Ah, sweet memories… but of course, he didn't get happy right away girls! And mark my words, if you want to get happy yourselves, he never will!"
It feels like she has suddenly woken up out of a daydream, her eyebrows raised, the look on her face like that of a lioness watching her offspring carefully, with slight concern.
"How did we get to this? Oh right, Shirley asked if I always wanted to be a dance instructor." A pause, a drag, a smile.
"Oh darling – I always was what I wanted to be."
273 Total Views, 6 Views Today