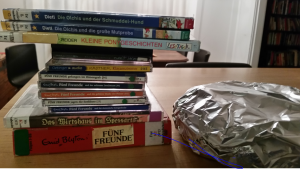 It's Saturday morning ten after nine. After a half hour drive, my two daughters and I pull into the parking lot outside a school that is situated in an affluent Boston suburb. We are among over 400 students (ranging from age 4 to 17), their parents, and about 40 faculty and staff members. Every Saturday morning, this building serves as the German Saturday School Boston (GSSB), founded in 1874 by the Boylston Schul-Verein.

Following our usual routine, my kids grab our library materials and drop off our homemade cake for the Kaffeeecke. The sale of Kaffee und Kuchen raises funds to support the school library. The woman behind the counter says danke fuer den Kuchen. Mother of 3, working full-time, member of the school board, she has been in the building for a while, making coffee, accepting cake donations, and helping with the setup of the library. It is the hard work and dedication of individuals like her that make this school possible. The GSSB also benefits from caring and qualified teachers, many of whom have or had kids in the school. Moreover, there is a capable administration, several very hard-working board members, and parent volunteers. All these people help to create a weekend language school that serves predominantly, though not exclusively, families in New England that have at least some roots in a German-speaking country.
My kids and I proceed to the mobile library set up in the cafeteria to drop off and check out new German language books, DVDs, and audiobooks. At 9:30, my daughters start their lessons in which they not only learn how to read and write in German, but they also engage with German-speaking culture and music. As the room parent for my younger daughter's class, among some other duties, I cover the 20-minute snack time while their instructor teaches an additional music class. The weekly challenge of getting 14 first graders through the hallways of the school and supervise their snack renews my appreciation of the tough job teachers have. My 'parent job' is a small way to let my children know that I appreciate their hard work. For now at least, they like German school "viel besser als amerikanische Schule."
Through my work as an academic, I've gained a first-hand glimpse into how fortunate my family is to have the GSSB in relative proximity to our home. Having collected many oral histories of recent immigrants in the city of Lowell, the topic of language preservation was an often discussed issue. I've talked to immigrant parents who feel guilty that they had 'failed' to teach their children their language. I've also heard from the children of immigrants, who have shared their regrets that they never learned the language spoken by their mothers and/or fathers. Moreover, I still remember vividly an interview ten years ago with a Vietnamese American who came to the U.S. as a refugee and who, with the help of a group of friends, started a Vietnamese language school in the basement of a Catholic church. He reported in detail about the struggles of the community to create curriculum and to find resources to start and operate their language school. During field work, I've also come across such schools in many unexpected places, for instance churches, temples, and swaminarayans. Through these experiences, I've gained some appreciation of how hard it is to run and maintain an institution of this kind. I feel privileged and grateful to have the GSSB in my family's life.
72 Total Views, 3 Views Today