I first came across White House Ruin in Canyon de Chelly (pronounced dəˈʃeɪ or də·shā′) in N. Scott Momaday's Pulitzer Prize winning novel, House Made of Dawn (1968). White House Ruin, he wrote, is the home of Talking God, one of the most prominent Navajo deities. For years I thought that White House Ruin – much like Talking God – belongs to the realm of Native American creation myths: significant for understanding the workings of the oral tradition, but long devoid of any significance and thus inconsequential for everyday life. Yet all of this changed when I first visited Canyon de Chelly in January 1994. Not only was White House Ruin one of the main attractions of the stunning, intertwined network of canyons at Canyon de Chelly, but the sun in the sky and the snow on the ground created an atmosphere that felt almost mystical.
A bit over twenty years later, during our study trip to Nevada and Arizona, we walked with our students down the steep path to visit White House Ruin. I was hesitant, thinking I might ruin an experience I had cherished for more than twenty years. The blue sky, the snow on the ground – how could those impressions possibly be repeated? At the beginning of April, the weather might be dull with a cloudy sky and muddy ground. However, when one of our students started building a snow man, I cast my view upward into the bluest sky imaginable. White House Ruin is more than just a sight – it is the home of a god indeed.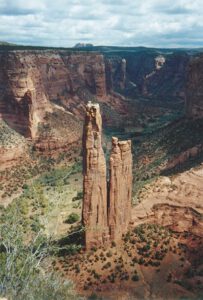 "White House Ruin"
To encounter the sacred is to be alive at the deepest center of human existence. Sacred places are the truest definitions of the earth; they stand for the earth immediately and forever; they are its flags and shields. If you would know the earth for what it really is, learn it through its sacred places. At Devil's Tower or Canyon de Chelly or the Cahokia Mounds, you touch the pulse of the living planet; you feel its breath upon you. You become one with a spirit that pervades geologic time and space.
"Sacred Places" from N. Scott Momaday's The Man Made of Words
Check out this previous blog post about our study trip to Las Vegas!
12,698 Total Views, 3 Views Today