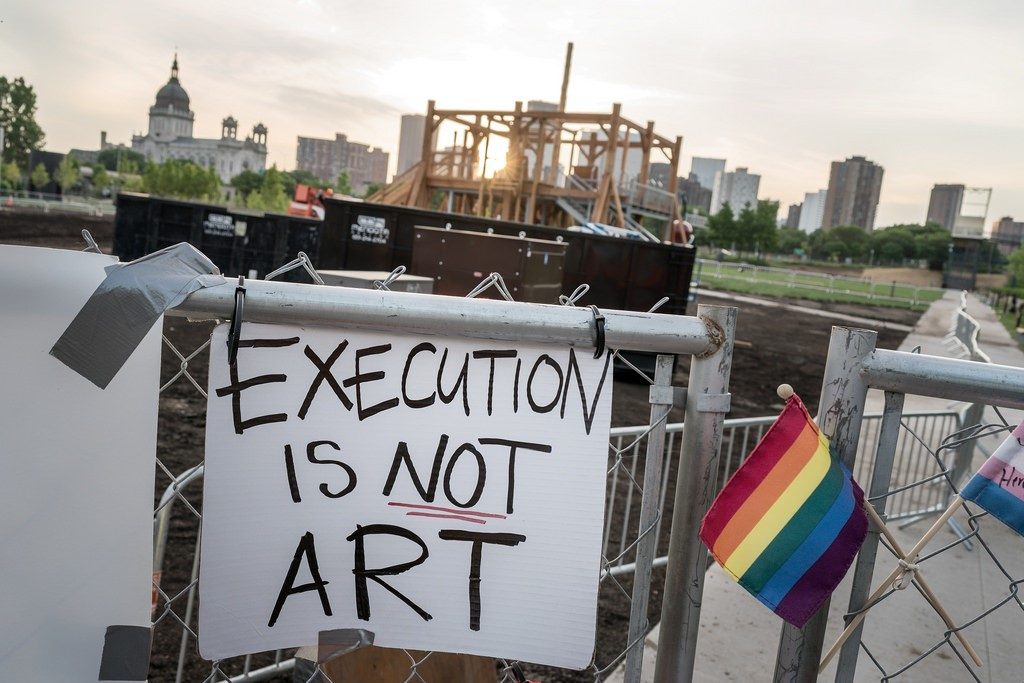 In 2017, just five years after a Minnesota art exhibition marked the 150th anniversary of the 1862 hanging of 38 Dakota Sioux men at Mankato, that grisly event drew new public attention. Well-known multi-media artist Sam Durant – whose installations often focus on events from American history – erected his latest work, a two-story wood-and-metal sculpture entitled Scaffold, in the garden of the Walker Art Museum in Minneapolis.
While his art works have appeared all over the world – receiving critical acclaim in New York, Los Angeles as well as in Paris, Ghent, Germany, Scotland, and New Zealand – this new installation caused immediate protests from Dakota Sioux tribal leaders who objected that it brought renewed attention to the 1862 mass hangings in Minnesota. Other Indian groups and their supporters created a storm of protest that led to the dismantling of Scaffold and caused a debate throughout the art world over public censorship, the role of art in society, and tribal sensitivities.
While defending his work as a statement on capital punishment, Durant said that the piece was meant to represent "the gallows used in seven hangings from 1859 to 2006 sanctioned by the U.S. government" and his objections to "America's history of state violence and the death penalty."  However, his remarks omitted any reference to the victims, the places, or the times the events occurred. Having already displayed Scaffold at the largest art exhibition worldwide – the documenta –in Germany in 2012  and at Jupiter Artland in Scotland two years later, the bitter public attacks in Minneapolis caught the artist by surprise.
After a meeting between museum and city officials as well as representatives of the four recognized Dakota tribes, the exhibition was finally cancelled and Scaffold dismantled. Authorities agreed to have the wood removed and taken to an area near Fort Snelling which has historical importance for the Dakota people. Whether tribal elders will hold a ceremonial burning or bury the remains of Scaffold in a secret location in Minnesota, remains to be seen.
Durant had no immediate comment about that decision but released the following public statement: "In bringing these troubling and complex histories of national importance to the fore, it was my intention not to cause pain or suffering, but to speak against the continued marginalization of these stories and peoples, and to build awareness around their significance." His words might have calmed some angry feelings; the incident itself, however, substantially damaged reconciliation between Native and non-Native people in Minnesota and will continue to overshadow the events at Mankato.
546 Total Views, 8 Views Today