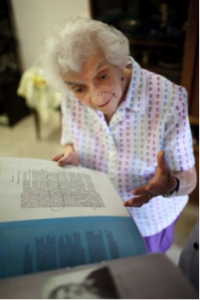 Director Ethan Bensinger's Refuge: Stories of the Selfhelp Home appeared in 2012. The next three years saw this 60-minute documentary on Holocaust survivors amassing one award after another. In April 2014, it was showcased on public television stations across the United States marking Holocaust Remembrance Day, and the Deutsche Welle has profiled a number of their websites dealing with German-Jewish émigrés around the world.
I had the honor of viewing this five-year project of labor and love at a film screening, commemorating the 20-year anniversary of the partnership between sister cities Chicago and Hamburg in the Hanseatic city's town hall this past December. And somehow I have the feeling that even after three years the film's journey is far from over.


Refuge chronicles the lives of six Jewish Holocaust survivors in their nineties and beyond who fled Nazi persecution and eventually found themselves in the land of the free. Since its founding in the late 1930s, Selfhelp Home has provided over 1,000 Central European Jews in Chicago's Hyde Park and Edgewater communities with assistance. Apart from shelter, food, language training, and assistance with job hunting, this non-profit organization and later residential home for the elderly became – as the documentary's title suggests – both a refuge and community, providing Jewish émigrés and Ha-Shoah survivors with Gemütlichkeit and a touch of their lost, beloved homeland.
In contrast to Hollywood films on the Holocaust, Refuge is neither high-budget nor plot-driven, but its non-fiction narratives told in thick German accents cut to the bone. Organized thematically, Bensinger focuses on the effects of the Holocaust on body, mind, and spirit as well as on some especially gruesome aspects of the Holocaust such as the Kindertransport and the Theresienstadt ghetto. Refuge is filled with tender memories of happy childhoods and unexpected reunions as well as with traumatic recollections of a beloved sister's last words and the unbearable choice to save one's own life by aborting another. Indeed, trauma comes in many forms and endures a lifetime. Even during meditations on happiness, the tragedy of lost futures seeps through. Nevertheless, these remarkable white-haired eyewitnesses are certainly not victims, even as they mourn in their own ways while rebuilding their lives.
As a second-generation Jewish American with German roots, Bensinger, a retired lawyer, seeks to preserve the experiences of a dying generation and honor Selfhelp Home's legacy. He hopes that his film will educate people all over the world and serve as a catalyst for the few remaining Holocaust survivors to break their silence. The clock is ticking. The time has come. Let us not be complacent. Genocide is not a matter to be filed away in the dusty archive of history; it is, unfortunately, still very much among us. Refuge is a film meant to be shared with others.