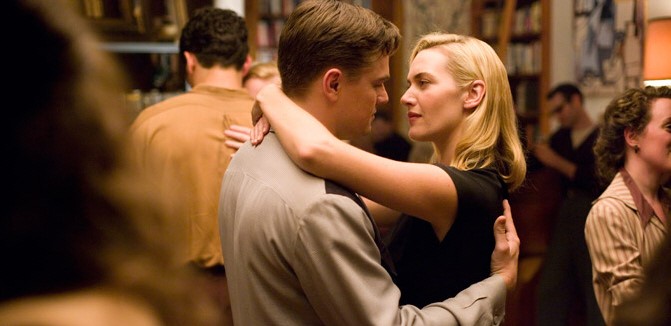 Many of you might remember Kate Winslet and Leonardo DiCaprio together on the big screen, surrounded by water and ice. While "Rose" whispers last words of love in the freezing air, "Jack" sinks to the depths of the Atlantic Ocean. And despite their coldish, blueish skin we feel nothing but warmth witnessing those eternal words of love. And – without a shadow of a doubt – we know that his life ends, but their love doesn't.
Eleven years after Titanic (1997), Kate and Leo are back, this time as a married couple in Revolutionary Road (2008), the film adaption of Richard Yates' novel (1961) of the same name.
It's the 1950s. Frank and April Wheeler (Leonardo DiCaprio and Kate Winslet) live in a white house in the suburbs and have a car and two kids. They are – by all standards – the 'perfect couple' on Revolutionary Road. At least that's what neighbors and acquaintances, such as their realtor (Kathy Bates) are trying to tell them.
Frank works in the same office as his father did years ago. He sees his job as dull and pointless. April is a failed actress, about to serve a lifelong sentence in her domestic prison. But she remembers something Frank told her when they had just met: "I've been to Paris. People are alive there!" So one day, April proposes a trip to Europe: "Let's go to Paris!" She could easily find a job, she believes, as a government secretary which would pay enough to keep their heads above water (no pun intended), and Frank could take it easy and find out what he wants to do with his life. Meanwhile, they would be alive. And feel. Frank's eyes light up and the decision is made! Nothing – it seems – can keep them from pursuing their dream.
The setting and central conflict are reminiscent of many aspects of the series Mad Men, which also contrasts the nice and beautiful exterior of an apparently 'good life' with a deep, inner emptiness that cannot be sufficiently filled with drinks, cigarettes, and casseroles. However, Revolutionary Road is much more intense. Thus, it didn't come as a surprise that the movie left me with a dull feeling in my stomach and a slight sting in my heart. The thought occurred to me that what I had just seen may not only apply to the 1950s in America….
Leonardo DiCaprio masters his role as usual, but it is especially Kate Winslet who performs superbly, tangibly conveying the well-written subtext. The supporting actors also live up to the film's subtle intensity, and the closing scene is one of the best I have ever seen on screen.
So, if you thought watching Kate and Leo floating in the cold sea was heart-wrenching and sad, I invite you to watch them in the warm living room of their beautiful white house on Revolutionary Road.