In hon­or of the 30thanniver­sary of the fall of the Berlin Wall, the Amer­i­can Stud­ies Blog will remem­ber this spec­tac­u­lar event in his­to­ry through the eyes of peo­ple from around the world dur­ing the next few weeks.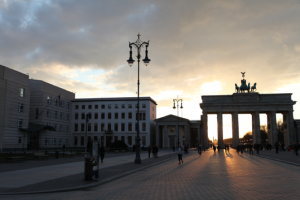 When Every­thing Changed
"Your friend Jörg called. There's some­thing going on at the bor­der." "What bor­der, the Hun­gar­i­an?" I was tak­ing off my coat think­ing of the pic­tures I'd seen of Hun­gar­i­an bor­der patrols cut­ting the wire fence and let­ting East Ger­mans through only a few months before. "He said you should turn on the TV." And so I did, and there they were, the cel­e­brat­ing Berlin­ers climb­ing on top of the wall, wel­com­ing stunned East Berlin­ers, joined in deliri­ous joy for the first time in four decades. And here I was, almost 7,000 kilo­me­ters away in Ann Arbor, Michi­gan, where I'd been teach­ing for the last four years.