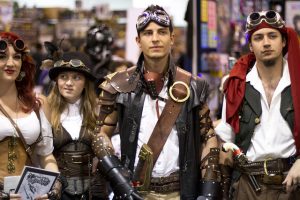 You've never heard of it? Seriously? This subculture – which has everything from music, fashion, and literature to LARPs (live action role plays), conventions and even scholars – is more popular in the U.S. than in Germany. So what is it? If you look at steampunk scholar Mike Perschon's blog, you'll see that it has aspects of retro-futurism, techno-fantasy, and neo-Victorianism, a movement not strictly limited to a specific time frame. The main source of power is steam, not gas or electricity. Steampunk is often seen as re-imagining the past not only to understand the present but also the sins of the past.
Is this subculture inclusive or exclusive? When you consider that Victorian England wasn't exactly a stellar time for people of color, gender or body autonomy, it makes you wonder why it is popular. This is where the re-imagining comes in as some steampunks simply recreate this era. Personally, I have problems with this type of representation as I know my history; however, I also realize their intent isn't to glorify the wrongs. In fact, other steampunks re-imagine the past to create a narrative for people who had no voice back then. This is what I love about steampunk.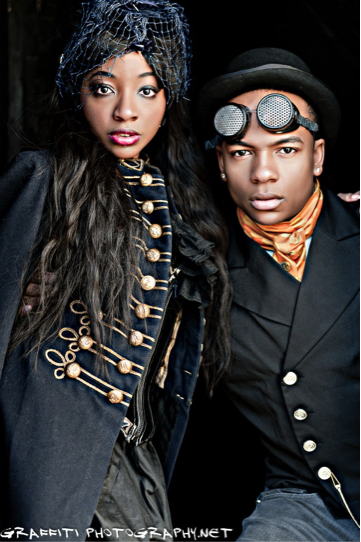 Another side of steampunk is about getting active in the sense of reduce, reuse, recycle. Do you have to buy everything? How long should something last? No wonder steampunk is closely aligned with the maker movement and DIY – it's about making technology more sustainable, human, personal, and individual. Think about it: Today's consumers can't even change the battery in their new iPhone, so steampunk can be seen as an understandable reaction to this trend in technology. Get your hands dirty and make it yours.
Steampunk isn't just about academic topics. It's also about fun! Go on a LARP, create your own fashion, go geek out with some friends, and discover a new passion for working with your hands or appreciating someone else's work.
The music of steampunk is as various as its people. The title of this blog entry is based on a song from the band Abney Park, probably the best-known steampunk band. After a semester of learning about steampunk, my class also said, "we've got steampunk."

Interested in other steampunk bands? Then why not listen to The Cog is Dead or Professor Elemental. Maybe you're in the mood for something a bit different. Try Dr. Steele – who is actually more dieselpunk – or Steam Powered Giraffe. Fashion is more your line? Try the Steampunk Emporium or the blog, Everything that is Steampunk. And if that's not enough, take a look at Diana Pho's blog, Beyond Victoriana for a multicultural focus. It is amazing how many creative people are out there.
Steampunks are generally open, curious, and willing to learn and listen. Are you? Then go out there and see if you can discover steampunk on your own and decide if you like it.
44 Total Views, 3 Views Today