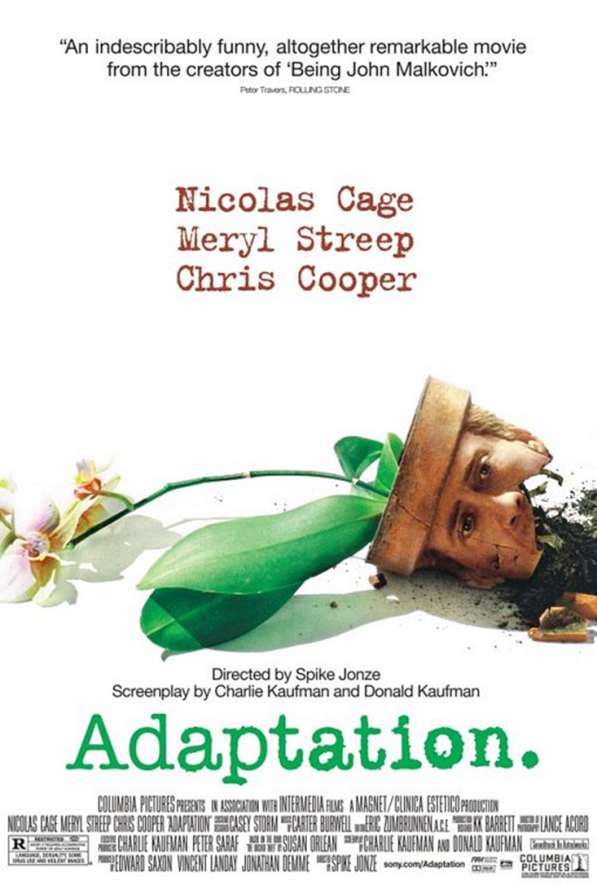 Adaptation is an oldie but goodie with an excellent cast of characters. Screenwriter Charlie Kaufman (Nicolas Cage) is supposed to write a movie adaptation of Susan Orlean's (Meryl Streep) non-fiction book, The Orchid Thief. The emphasis is on 'supposed to' because he doesn't.
We accompany Charlie trying to overcome his severe writer's block by pursuing his work without a plan. In the process, we witness his soul-crushing rampages of self-loathing, short moments of seeming progress, and tragically unfulfilled desires. All the while, Charlie's much more lighthearted twin brother Donald (Nicolas Cage in a double role) naively pursues his own screenplay endeavors. Also, the audience dives into the book along with Charlie and get a glimpse into the life of orchid thief and breeder John Laroche (Chris Cooper). Initially, the film is nothing but bizarre; however, gradually it becomes inspiring and holds quite a few surprises for unsuspecting viewers.

Labelled a comedy-drama, Adaptation features some comedic elements. Nevertheless, it's more tragic than funny, so don't watch it to get a good, carefree laugh. Do watch it though to admire the complex relationship between reality and fiction.
Charlie Kaufman is a real person and screenwriter. He wrote the screenplay to this very movie and is most known for having written Being John Malkovich (1999). Also, Susan Orlean is a real journalist and author who wrote the book about the actual orchid breeder John Laroche. In that way, the movie is partially autobiographical. Also, Kaufman really did get hired to write a movie adaptation to The Orchid Thief, really did struggle with writer's block, and eventually really did decide not to write about the book. Instead, he wrote about himself failing to write the book. Which resulted … in this movie! Watch for yourself:
124 Total Views, 3 Views Today