The scene is July 4, 2012. 8:56 p.m. Ira Wagler sends an e-mail halfway across the world, answering an inquiry from a university instructor in Germany whom he cordially grants an interview about his book, Growing Up Amish. "Thanks for your invitation to come tour a few universities in Germany," he continues. "I won't say 'never;' the journey of the book has led to many unexpected places already. But for now, well, I'm quite content here where I am."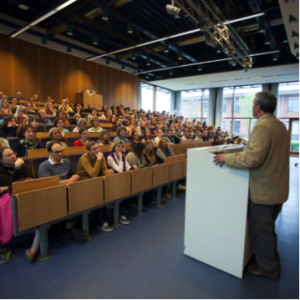 Little did he know, and little did I know then, that his granting of that very interview would take him not once but twice to Germany. And as irony would have it, he will be back exactly three years to the day I received that first email. The good news is that he won't be alone. Your presence is kindly requested.
Ex-Amish blogger and memoirist, Ira Wagler, will be at Leuphana University Lüneburg, Germany, with Donald Kraybill, Distinguished Professor in the Young Center for Anabaptist and Pietist Studies at Elizabethtown College, PA, at an international symposium from July 2-4, 2015. The symposium "Anabaptist Roots in North American Landscapes: The Plain People Today", which we in the Center for Modern Languages lovingly refer to as the Plain People Conference, is not your run-of-the-mill academic affair. So before you start to yawn, let me fill you in on a few details.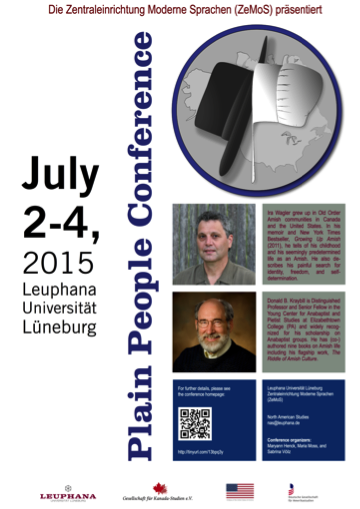 There will certainly be inspiring talks, the exchanging of ideas, and perhaps even a few heated debates, but there will also be an independent film screening, a teacher's roundtable, special guests, and an audience filled with a unique blend of scholars, teachers, students, and an occasional city resident. The venues: a beautiful historic building in downtown Lüneburg and the university campus. And as an interdisciplinary conference, we will bring sociologists, historians, theologians, and literary scholars together and experience topics "outside of the box" of our scholarly training. And finally, with the assistance of Donald Kraybill, we may even solve a few "riddles" of the Amish.
So mark the dates. Get registered, and join us as we find out more about the people who are simultaneously demonized and exoticized. It's that plain and simple.