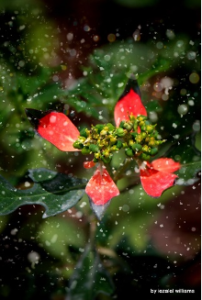 The holiday season is a unique time. We go through the full spectrum of emotions within a span of two weeks only. We constantly have to deal with family members and guests; we eat way too much while telling ourselves we'll be going on a diet next year; and we tend to get overly emotional, especially on Christmas and New Year's Eve.
Since it's such a wonderfully stressful time, I chose three topics to help you through the last few weeks of the year.
How to Holiday Safely:
Remember: "Happy Holidays!" is the safest statement because not everyone celebrates Christmas.
Don't stress beforehand! Guests have a tendency to do that for you.
You can't please everyone, so just roll with the punches (NOT LITERALLY)!
Don't forget the grandparents! You don't want to miss grandpa take out his teeth.
All presents are good presents if presented as such. Just be convincing!
Know your white lies! Santa just accidentally used the same wrapping paper you did.
There is no such thing as "Christmas fat trap" – you're just well-padded for the remainder of the month!
Don't set the Christmas tree on fire and/or keep the cat out of reach!
Lastly, watch this safety video to avoid accidents:
The Gift Exchange: Traditions in the U.S. and Germany
As a native German, I grew up with Wichteln (or Secret Santa). I feel it's a part of Christmas by now. In the U.S., my 'American family' (they've basically adopted me) introduced me to the left/right gift exchange during Christmas, which could have a different name depending on your home state. It was so much fun that I introduced it as a Wichtelnalternative to my friends and family over here in Germany. Now, we use a mix of both.
Left/Right Gift Exchage – U.S.

Wichteln [Secret Santa] – Germany

Price of the gift

$5 – 10

€5 – 10

Preparation

Make sure each guest knows to bring a gift for the gift exchange. It needs to be suitable for almost every guest in the group.
Find out who is participating and throw their names in a hat. Then, have everyone draw a name (ideally not their own!) or randomly assign names. Then decide on the version you want to play.

Be creative and thoughtful about the gift – how good the wrapping looks is of secondary importance. Each gift needs a name tag.

Instructions

Sit in a circle and put the gift you brought in front of you. Someone reads the story aloud.

Each time the words "right" and "left" are read, guests pass their gifts to the right or left.

At the end of the story, each guest either keeps the gift or agrees to swap with another guest.

For simplicity's sake, I'll stick to the basic version: All gifts are collected in a pile. Then everyone searches for their own name. Alternatively, you can decide on an order beforehand to avoid chaos. Now, the fun begins as everyone unwraps their present and people take turns guessing who their Wichtel (Secret Santa) is.
Other versions of Wichteln:
Schrottwichteln (White Elephant Gift Exchange): The gift should be especially worthless as long as it's not trash.
Räuberwichteln (Thieving Secret Santa): The dice is thrown and – if it's a 6 – player 1 picks a gift and unwraps it. All players after player 1 decide whether to steal the gift or open a new gift until all gifts are distributed.
Zufalls-/Würfelwichteln: Names are randomly assigned before opening the gifts. A dice is thrown and – if it's a 6 – a gift is unwrapped.
Gedicht-/Geschichtswichteln: A gift has a poem/story attached to it instead of the name of the designated person. Now the guessing game begins of who the gift is for.
Game On: How to entertain everyone and avoid alcohol poisoning
Sometimes, the time between food and fireworks drags on forever. I actually love a good board game to kill time, but I advise against Monopoly (we don't need a fight to start the new year). If you're bored with board games, however, I'd like to draw your attention to a favorite of mine instead: the dictionary game (maybe you know it as Fictionary).
What? You haven't heard of it?
The dictionary game can be played in teams or solo. All you need is a dictionary, pen and paper for each team/player, and a scoreboard (another piece of paper). And this is how you play it: Someone randomly opens a page of the dictionary and reads out a word of their choice WITHOUT mentioning the definition of the word. Now, the players all write down their own definition of the word. Simultaneously, the person who chose the word writes down the actual definition. Next, each group hands their definition to the person who chose the word. They read out every definition, and each correct definition gets a point. If no one knew the actual definition of the word, the person who chose the word picks their favourite definition (there are parallels to Cards Against Humanity).
This game doesn't have a time limit and is hilarious because of the creatively incorrect definitions. You can also use an online dictionary on your phone, tablet, or laptop to provide words if a dictionary isn't at hand.
If this game doesn't tickle your fancy, try out Charades, Who am I? or Taboo. They require little to no equipment and promise a fun-filled evening of entertainment. And that's what we're looking for at Christmas and New Year's, right?
880 Total Views, 2 Views Today