"An Adirondack camp does not mean a canvas tent or a bark wigwam, but a permanent summer home where the fortunate owners assemble for several weeks each year and live in perfect comfort and even luxury."
— William Frederick Dix [1903]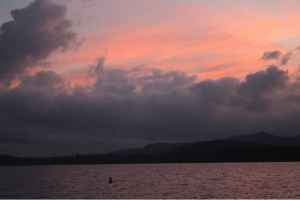 In the late 1800s to the 1920s, a select group of New York's wealthy elite traveled up to their great camps in the Adirondacks to escape the hot and over-crowded city. Upstate New York's Adirondack State Park, located 3 hours outside the city of New York, encompasses countless glacial and man-made lakes and spans 6.2 million acres, making it the largest state park in the U.S. In the Adirondacks, these great camps were made up of a series of housing compounds surrounding the lakes. Since these homes were in a remote wilderness, the camp's architects used numerous native resources to build the homes, consequently giving the camps a unique rustic aesthetic. This great camp's architecture partially drew upon the Swiss chalet and the Japanese tea-house architecture.
There was no equivalent to these exterior and interior design feats anywhere else in the world; the great camps in the Adirondacks truly were and are unique unto themselves. Furthermore, each individual camp had its own distinct approach to the Adirondack style. The camp that I believe is most notable to look into is that of Camp Stott since it represents a critical feat in American design and architecture. The story of Camp Stott begins in 1877 with the creation of the camp by designer Francis Stott, a textile manufacturer in NYC, who created a large compound on Raquette Lake, the largest natural lake in the Adirondacks. Adding to the allure and magic of Stott's camp was the fact that it was so far away from any road that it was only accessible by steam boat (and still today is only accessible by motorboat).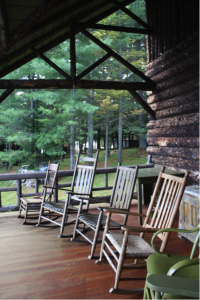 The camp once had twenty-plus buildings, including multiple compounds for animals (mostly horses); today, ten traditional log cabins remain on the property, including a main house, a winter cabin as well as a game room, guest cottages, and a boathouse. These three large cabins all have elegant Mansard Roofs and large fireplaces to keep warm during the cold to mild summer nights. In keeping with the local Adirondacks tradition of using native materials, the Stott Family and the Collier family, who came to own the camp after Stott, continued to make their own custom-made furniture out of bark, twig, burls, or branches using local birch, beech, or pine trees. Even the Adirondacks chair grew out of this hand-made artisan movement that occurred in upstate New York. Within Camp Stott there are many notable feats of architecture, furniture, and interior design, which I will discuss in more depth in my next blog post. Please stay tuned!
Without the help of family friends who have graciously allowed me to stay at Stott camp I would not have had the privilege of writing this blog post. Many thanks to them.
39 Total Views, 2 Views Today