A year and a half has passed since the Teaching America project at Leipzig University's American Studies Department has entered the practical phase, and a lot has happened since. Let us fill you in on some of the great new developments.
The Teaching America project introduces and strengthens the use of new media both in the university setting and in high school classrooms, thus increasing the amount of U.S.-related topics and resources in English high school instruction in Saxony and beyond. This project minimizes the gap between theoretical university instruction and school reality by providing student teachers with the opportunity to gain teaching experience long before students enter their practical student teaching phase.
The core of the project is an interactive online portal that was created in close consultation with teachers. The portal contains a wide variety of freely available online resources for teachers on American society, politics, culture, history, and literature. And the best part is: It's open to all interested teachers and teacher trainees.
A second important component of the project – which has been successfully implemented in the last year – is the university seminar, "Teaching America." It was first offered in the summer term of 2014 and emphasizes self-directed and collaborative learning. Students created brand-new U.S.-related teaching materials for English high school classrooms, which had already been tested in our partner schools in Saxony. Now these resources, embedded within detailed lesson plans, are accessible to all interested English teachers.
Currently, we are pleased to present nine lesson plans and the accompanying teaching resource materials that consist of – but are not limited to – online crossword puzzles, podcasts, videos, online quizzes, songs, digital maps, blogs, and Prezi presentations.

Presented in an easily accessible way, all projects include a short summary of the lesson's topic and specify the grade level the material is intended for. They come fully equipped with a lesson plan, links to resources, zip files including e-materials, ideas for upcoming class sessions, and a bibliography.
The topics range widely and include lessons on Rock 'n' Roll, the U.S. legal system, national parks, cities such as New York City or Washington D.C., Native American storytelling, or high school experiences in the U.S. Two additional student projects highlighting The Roaring Twenties and Halloween will be included into the section shortly.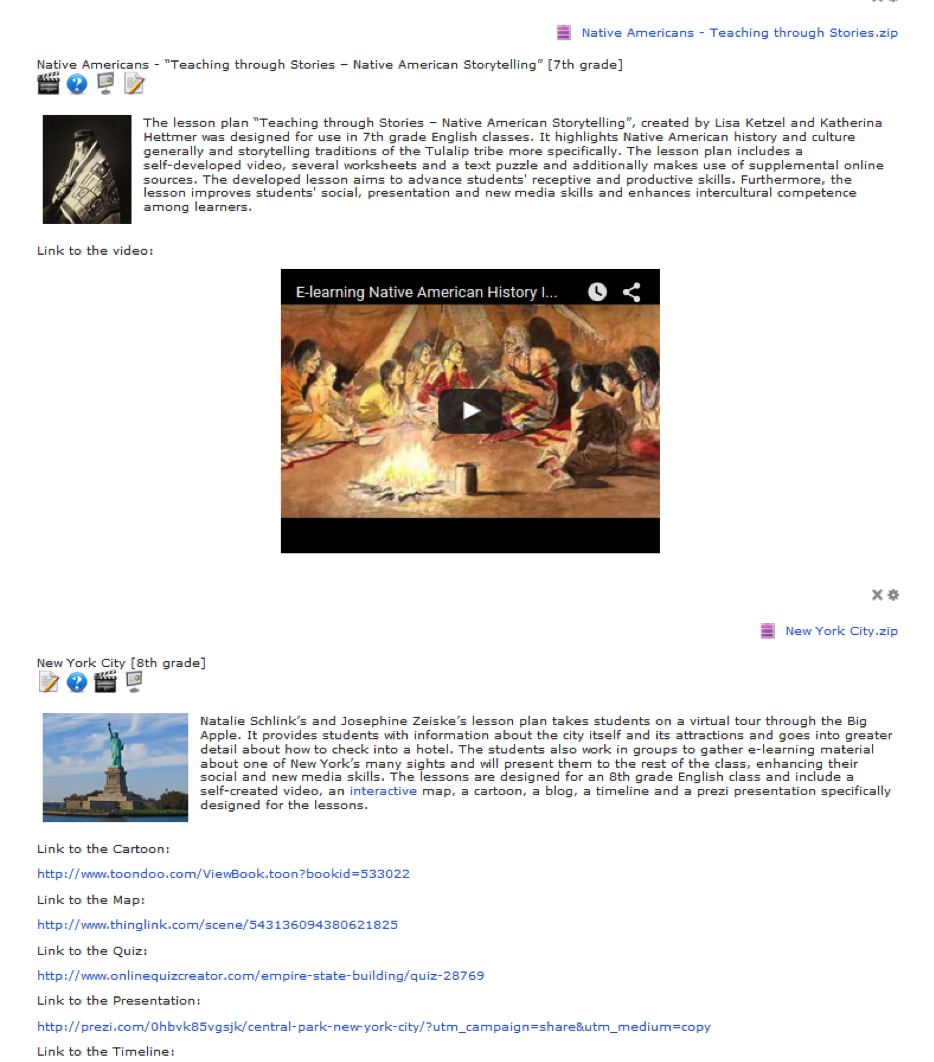 Are you interested in working with these materials and resources? Then visit our website or contact Anne Grob to find out more about accessing the Teaching America online portal.
45 Total Views, 2 Views Today