"Nobody can advise you and help you, nobody."
This is how writing instructor, novelist, and screenwriter Colum McCann starts his Letters to a Young Writer (2017). But if no one can help you write, why bother reading a book that has "writer" and "advice" in its title? Well, let's read a few letters and find out.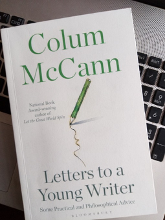 The opening words are not his own – he borrowed them from Rainer Maria Rilke, who wrote them more than a century ago in his very first response to Franz Xaver Kappus, a 19-year-old officer cadet. Kappus had sent his poems to Rilke in hope of getting them reviewed. Rilke declined, but offered the young soldier and poet something even more valuable: correspondence. Their exchange lasted from 1902 to 1908. Years later, Kappus would publish their correspondence under the title Letters to a Young Poet. Inspired by this collection, McCann wrote 52 short prose pieces and published them as his Letters to a Young Writer. The chapters rarely exceed three pages; some are less than one page long. Even though there are no 'hellos' and 'farewells', the casual reading experience indeed reminded me of reading letters.
"Be in the habit of hoping," McCann tells us in a very short letter that reads as if he had scribbled it on a post-it-note – the way you do when you feel something is too important to wait for a proper time to write it down. "Keep writing," is another one of his suggestions. To some, this may sound too simple and obvious; do we really need this in black on white? Well, in case you're a writer, my dear reader, tell me: Have you not had these days, weeks, months where even sorting your socks seemed more alluring than facing the 'terror of the white page'?
McCann's letters are more than just a pep talk. By writing them, he reveals his painful familiarity with all the common and maybe not so common issues a writer has to face. One of his letters, for instance, is about not letting jealousy of other writers' accomplishments get you down. In the process, he mentions aspects one doesn't hear very often because they sound either too obvious, not smart enough, or too uncomfortable.
McCann doesn't hesitate to give advice on virtually everything connected to writing, at times in very specific ways. However, I'd say if you're looking for a tightly packed 'how to' book, there are other options for you, and good ones! It's not that McCann's book suffers from unclarity, not at all, but he directs his letters more towards the heart than the head. It is exactly what the book's title promises: Not a manual, but a correspondence with some practical and philosophical advice woven in. And while this publication might not be a must for advanced writers, it certainly is a wonderful introduction to new and aspiring writers.
"There is only one way. Go into yourself," Rilke wrote in his first letter to Kappus. I think McCann's Letters to a Young Writer might be a nudge into that direction.
1,074 Total Views, 3 Views Today