"What are you thinking? How are you feeling? Who are you? What have we done to each other? What will we do?"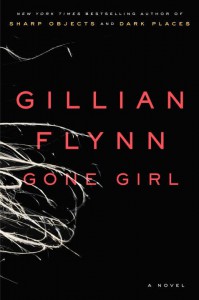 Boy loses girl — what starts with a classic opening scene of a psychological thriller turns out to be much more than that. When his wife disappears on the morning of their fifth wedding anniversary, Nick Dunne's small town life in Missouri is about to turn upside down. Not only do the police find a crime scene in the Dunne's living room, they also have to deal with a husband who is neither surprised nor grieving. While the public's interest in Amy grows by the day, Nick soon loses everyone's sympathy. He smiles at all the wrong times; he lies and is far from being a good husband.
It seems like a classic case of convicting the husband: While he desperately tries to explain himself and fight the tightening noose around his neck, Amy's diary only confirms the growing suspicion that Nick is a mean and misogynist bully: "I catch him looking at me with those watchful eyes, the eyes of an insect, pure calculation, and I think: This man might kill me."
Could he have done it? Could he have killed Amy?
Vigorously, Nick tries to hunt for clues that might not only disclose Amy's final steps before her disappearance but also help him to understand the reasons for her apparently twisted mind. Yet, what ultimately awaits him at the end is far from a romantic closure: Boy meets girl.
Gone Girl, the third novel written by Gillian Flynn, was published in 2012 and deservingly hit The New York Times' bestseller list shortly thereafter, leading its Hardcover Fiction Bestseller list for eight weeks. Narrated by Amy and Nick Dunne, it doesn't take long before we get sucked into a thrilling net of lies and intrigues. While remaining perfectly clueless as to where the story is taking us, we become the match-ball in an exciting power game of deceit and madness, sympathizing with Nick and Amy in equal measure but at different times.
Suspenseful till the very last page, Gone Girl explores the limits of unreliable narration and the darkest corners of the human psyche, and ultimately leaves us wide-eyed, gasping, hands on our hips, and wishing for more. If you haven't yet had a chance to read this novel, get yourself down to the nearest bookstore right away. You won't be sorry.