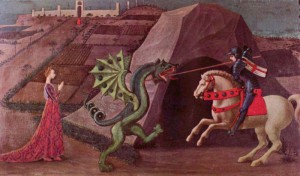 Yes, you read correctly. I got the title right. You were probably expecting 'Damsels in Distress' so let's look at that classic theme in literature first. You know the story, actually everyone does. The daring knight in shiny or rusted armor comes along and saves the damsel. She is in need of help, of rescue, of a man. Although she might be well accomplished in many aspects, she is unable to help herself out of trouble and needs someone else to do this for her. Usually, the knight or prince must save her from a villain or a fire-breathing dragon. Of course, in my version the knight would tame or befriend the dragon and not slay it. Well, I am getting ahead of myself. For now, let me say that representations of the 'damsel-in-the-distress' theme in popular literature and film has changed with each wave of feminism.
Before the first wave, many stories featured a damsel in distress, including most of the Disney princesses. Considering that they are based on folklore, this isn't surprising. Let's face it: the rights of women were reflected in their low status in society. The goal of the first wave was to create more opportunities for white middle and upper class women and secure the right to vote. The damsels were still in distress but they were on the right path to finally have a bit more of a say in things.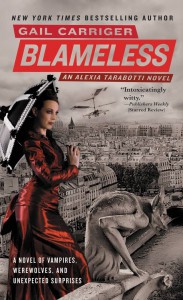 The next group of damsels consists of 'the ones without distress,' a term I came across while researching steampunk. In his article, "Useful Troublemakers: Social Retrofuturism in the Steampunk Novels of Gail Carriger and Cherie Priest," Mike Perschon aptly labels this type of women as "Damsels without Distress." He describes how Alexia, the protagonist in Gail Carriger's book series, does not need her husband's protection and masters all the problems associated with a pregnancy alone, refusing to become a 'fallen woman.' Steampunk women have problems but they confidently deal with them independently. Moreover, in Balogun Ojetade's, Moses: The Chronicle of Harriet Tubman, Ojetade takes the historical person of Harriet Tubman, a former slave who helped free slaves and spy for the Union army, and creates a fictional story based on her experiences. Here the protagonist is not only an example of a woman dealing with gender but also race discrimination.
I like to link the characters Alexia and Harriet Tubman to second wave feminism. This group primarily made up of white, middle-class educated women strove for equality, and some actually did attain control of their body. This movement was criticized for excluding minority and lesbian women. Since Steampunk offers the possibility to reimagine the past and to show how our future might have been, it offers new understandings of women and their roles in society.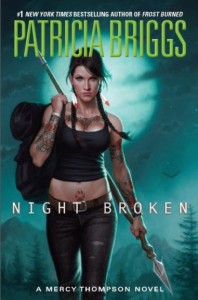 Urban fantasy is one of my favorite genres because it has many 'Damsels causing Distress.' These ladies are right in the thick of things. They don't need rescuing and they certainly don't conform to society. They are in the eye of the storm (or story). If the male protagonist – be he vampire, werewolf or any other being – is welcome to come a long if he can keep up. And he just might also be allowed to help, if he's lucky. This new role causes a lot of (dis)stress for the male protagonists. Let's take one of my favorite urban fantasy heroines Mercy Thompson, for example. She is an underpowered, mixed-race walker who as such has the ability to change into a 'normal' coyote at will. Despite her lack of power, she leads werewolves, vampires and the fae (i.e. all mythical beings) on a merry chase and although she takes a beating both physically and emotionally, she always comes out ahead.
With this last example, the protagonist is influenced by a mixture of third and fourth wave feminism. Basically, Patricia Brigg's Mercy Thomspon series takes the multi-cultural viewpoint which questions the rigidity of concepts, such as identity, gender, or sexuality. But the fourth wave also has tended to be very academic at times, so it isn't too surprising that this wave is taking the movement back to the public. All the goals that the third wave thought to have completed but didn't are hotly debated topics once again. The fourth wave is also more inclusive and no longer relegated to a just-for-women-only position that Mercy Thompson shows by trying to integrate equality between men and women within her 'pack'. Additionally, race and gender issues are addressed, and she stands by her friends regardless of race or sexual orientation.
So the next time you read a book or watch a TV show or film, get out a checklist and see if the female protagonist is a damsel in distress, without distress, or is busy causing distress.
67 Total Views, 3 Views Today