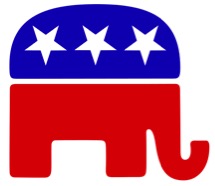 Before we get to our topic at hand, let's get out that Karaoke mic and get ready to sing a song to the tune of "Ten Little Indians." One little, two little, three little candidates, four little, five little, six little candidates, seven little, eight little, nine little candidates, ten little Republican candidates. For President of the United States, that is, if you haven't yet heard. Well, not exactly ten. Jeb Bush, former Governor of Florida, just joined the race last Monday, and Donald Trump, a real estate tycoon, made his decision public on Tuesday. And there are still a few potential candidates thinking about throwing their hat in the race. So stay tuned. Now if you are serious finding out who may make it to the Oval Office in the 2016 U.S. presidential election, then you'll have some work to do. It won't be easy, but there is no better time than the present to begin.
To be fair, I am going to introduce the other candidates in alphabetical order and in a blog-friendly way:
Ben Carson, former Head of Pediatric Neurosurgery at John Hopkins
Ted Cruz, Senator from Texas
Carly Fiorina, former CEO of Hewlett-Packard
Lindsey Graham, Senator from Southern Carolina
Mike Huckabee, former Governor of Arkansas and ordained minister
George Pataki, former Governor of New York
Rand Paul, Ophthalmologist and Senator of Kentucky
Rick Perry, former Governor of Texas
Mario Rubio, second-generation Cuban American and Senator from Florida
Rick Santorum, former Senator of Pennsylvania
As you can imagine, having so many GOP candidates in the U.S. presidential race does pose a few challenges.
Imagine you are one of the candidates mentioned above. How will you get enough media attention, and even more importantly, how will you raise money, money, money with so many fellow Republicans in the field? Will you go for flashy sound bites or will you focus on the issues? Will you build a bottom-up campaign like Barack Obama did? Or go with the tried-and-true forms of traditional campaigning?
Imagine you are a journalist trying to cover so many candidates or stage a debate between them on television. Now imagine the outrage of those Republican candidates who won't get a spot in the first televised debate because they are number 11 or 12 on the list according to "the top 10 polling average" – whatever that is. Fox News has tried to solve this problem by adding a "candidate forum" during afternoon programming prior to the airing of their first Republican presidential debate on August 6, 2015. CNN will have two Republican presidential debates. Only time will tell if really all the GOP candidates will get their 15 minutes of fame.
Imagine trying to seriously figure out who these candidates are, what they stand for, and who to actually vote for. It's certainly hair-raising. Imagine the plight of every Republican, well every person in America and beyond. After all, even if we don't intend to or cannot vote in the upcoming caucuses or primaries, we should inform ourselves about who might potentially become one of the most powerful political leaders in the world. On the New York Times' webpage
Who Is Running for President (and Who's Not)?, you can read an analysis about what each candidate has to do to win.
And perhaps having ten or more Republican presidential hopefuls is not much of a problem after all. It certainly is getting people talking and making many people all over the world curious about American politics. And that is certainly worth something. After all, in the words of Pericles, "because you do not take an interest in politics doesn't mean politics won't take an interest in you."
Oh, and did I mention that the real fun begins in Iowa? Yes, Iowa – the state with the first electoral event of the presidential nominating process. After that, it is time for … ten little, nine little, eight little hopefuls, seven little, six little, five little hopefuls, four little, three little, two little hopefuls, one major GOP hopeful.
And may the best person win.
48 Total Views, 1 Views Today