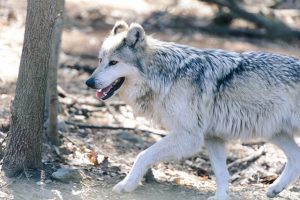 A long journey ends
when farmers grab their rifles
wolves in Germany
Remember the Haiku rules from last week? If not, check here.
As opposed to last week's blog on traditional Haikus, this blog will focus on the non-traditional variant. While these Haikus still feature a natural scene or a part of nature (e.g. landscapes, animals, oceans), the focus is no longer on the depiction of a quiet, solemn image of nature but on the disruption or even destruction of a once balanced and harmonious environment. Non-traditional Haikus always call attention to environmental damage due to man's interference in the natural order of things.
Look at the following Haikus written by students:
Lovely silent lake
shoal of fish swims quietly
stiff and upside down                                    (Lina Tran)
Soft green slopes smoothly
cling to the roaring highway
plastic everywhere                                        (Maria Hermann)
Black shiny blankets
float on the vibrant ocean
fish gasping for air
A flicker of tail
reddish fur bursts through the woods
hunted by black hounds                               (Vanessa Richter)
Dry barren landscape
echoing metallic roars
haunt the lifeless realm                               (Vanessa Tan)
I thought I would end this blog with a link to a Haiku reading on YouTube, but I'm actually pretty dismayed at the quality of the videos I discovered. My students can do better than that. If I can convince them to read their Haikus, you'll hear from me again. In any event, try to write your own Haikus – it's fun!!!
12,653 Total Views, 3 Views Today