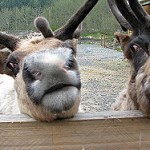 If the film Reindeer Games doesn't ring a bell – a Christmas bell – it's not surprising. This isn't the kind of film that would inspire festive feelings, but it is a film that just might surprise you.
It's six days to Christmas and three days to freedom for prison cellmates Rudy (Ben Affleck) and Nick (James Frain). Former auto-mechanic Rudy is looking forward to eating apple pie and drinking hot chocolate; former casino-guard Nick has bigger plans: "I'm gonna walk outta here. I'm gonna walk right into a relationship." During his time in prison, he has become a pen pal with a woman called Ashley (Charlize Theron) – and fallen in love with her lines and pictures. Over his last prison meal, Nick fantasizes about Ashley's brother, a truck driver, finding him a job.
Walking into freedom without Nick (no spoiler), Rudy recognizes the woman from the pictures his friend had taped all over his cell. Remembering the lovely lines Nick shared from her letters, Rudy approaches her with an awkward smile, uttering the li(n)e: "I'm Nick!" Needless to say, Rudy's first days in freedom are beautiful; however, soon he comes to the remorseful realization that a guilty conscience isn't the only downside to the decision he has made – because it turns out that Nick was right and Ashley's brother Gabriel (Gary Sinise) has a "job" for him indeed …
In a 2007 interview, Charlize Theron said Reindeer Games was the worst film she's ever participated in. Reviews and overall reception seem to correspond to her assessment. Nevertheless, I want to make a case for this unusual R-rated "Christmas movie" directed by John Frankenheimer, usually known for more sophisticated work. This one is not intellectually stimulating and may have its glitches in logic, but it's suspenseful, entertaining, and contains a number of plot twists you most likely won't see coming.
One shouldn't expect this somewhat brutal action film to evoke a cheerful Christmas mood. Typical Christmas elements, such as music, decoration, and costumes, seem rather contradictory to the film's mood and setting and create something of an interesting paradoxical feeling.
Take a look at the trailer but keep in mind that it is as misleading and random as the title itself. The title for the German market, Wild Christmas, and the alternative English title, Deception, seem more fitting.
If you don't like this film, there is always It's a Wonderful Life. Now that one is a truly heart-warming American classic mentioned in "The Ultimate Christmas Movie Playlist".
177 Total Views, 2 Views Today