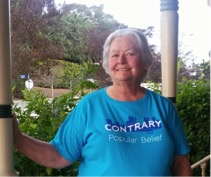 Recently, I attended a memorial service for an old friend. Peg had led a long and accomplished life before her final years of excruciating pain and frustrating helplessness, so while we mourned her loss, we were there to share the joy of having known her. Peg was a firm atheist, a founding member and generous supporter of Atheists United, but most of her time was spent riding the horse trails that she loved, so it didn't surprise me that I was the only person from the freethought community at the invitation-only event.
Her oldest son led off with a long remembrance, and then various friends and family shared anecdotes and enumerated Peg's many contributions to the community. Peg's involvement in freethought wasn't mentioned. It was not that people were avoiding controversy; Peg's colorfully negative opinion of Republicans was fondly recalled. Still, even in liberal Southern California, atheism is a whole different measure of controversy.
As the talks were winding down, Peg's youngest son Dave rose to speak. I knew him better than the rest of the family and knew that his mother was proud of his atheist activities. "Mom was raised Presbyterian but became an atheist," he boasted, "and I think that speaks well for her critical thinking ability." With the ice broken, I stood to honor Peg's contributions to the freethought movement.
When I sat down again, a woman strode purposefully to the front. Her eyes fixed on Dave and me as she said in a deliberate voice, "I know Peg is watching us right now. She can see us, and we will see her again."
Religious intrusions in atheists' funerals aren't unusual. I'm offended when someone interrupts a secular ceremony with a Bible reading and infuriated when the deceased is extoled as a generous and kind man by a speaker who then concludes, "He really was a good Christian," reflecting the cultural idea that virtue is an exclusively Christian trait.
Yet, when I imagine Peg's reaction if she really had seen her friend glaring at us as she delivered her message of salvation, I can only be amused.
54 Total Views, 2 Views Today