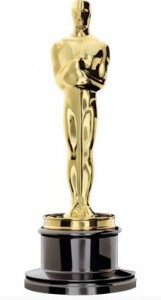 There's always suspense at the Oscars, but this year edge-of-the-seat tension will be greater than it has ever been. There is interest, of course, in who will win in each category, but the real question prominent in the minds of most in the theater and in front of the TV is, "What will Chris Rock say?"
This year's host was announced well before the all-white nominations were, and in a plot worthy of the best of Hollywood's script writers, the Academy chose maybe the most insightful commentator on matters of race and class in Hollywood, if not the United States.
No opening monologue has ever been so anxiously anticipated; arguably, no comedian's monologue on an entertainment show has ever had the same potential for social impact. Of course, like any speech, everything hangs on what is said, and it seems everyone in Hollywood has an opinion on what this 50-year old stand-up comic-actor-producer should say.
The Oscars always come with some controversy – a best picture, director, or actor who "should have been nominated" and wasn't.  In 2014, there were grunts when there was only one black-themed movie (Selma) among the most coveted nominations. This year, there are no African Americans among the Top 20, and the grunts turned into shouts. Prominent among the snubs were Straight Outta Compton, a story of the early days of hip hop, and the highly acclaimed performance of Will Smith in Concussion.
As one would expect, there are as many opinions about what Chris Rock should say as there are sequins on the red carpet. Actress Jada Pinkett Smith has called for a boycott. She is likely influenced by the fact that her husband is the aforementioned Will Smith, who joined the boycott (reluctantly?) later. Producer-director Spike Lee – always among the most militant in fighting discrimination – will boycott, but it seems as if there will be little other participation.
Of course, there's also anti-boycott talk: Best actress nominee, Charlotte Rampling, now regrets saying that the boycott idea was "racist to whites," but she said it, nonetheless. Yet, some of the anti-boycott talk is personal. Janet Hubert, who starred with Will Smith in the TV series Fresh Prince of Bel Air, posted a video addressed to Jada Pinkett Smith: "First of all, Miss Thing, does your man not have a mouth of his own with which to speak? The second thing, girlfriend, there's a lot of sh*t going on in the world that you all don't seem to recognize. People are dying.  … And you're talking about some motherf**king actors and Oscars. It just ain't that deep." Whoopi Goldberg supported the statement, adding on a more moderate tone, "Boycotting doesn't work, and it's also a slap in the face of Chris Rock."
The Academy has recognized the need for change and is revising its membership standards to bring in more young and minority members. Needless to say, this provoked the old guard. On learning that those who had been inactive in the industry for ten years or more could lose their voting rights, 50s idol Tab Hunter surmised,  "Obviously, it's a thinly-veiled ploy to kick out older white contributors – the backbone of the industry – to make way for younger, 'politically-correct' voters." Veiled? Backbone of the industry?
The dominant opinion – among moviemakers of all races – seems to be that the Academy has erred and is right to make corrections, but that the real problem is with the studios, who are notoriously reluctant to okay minority-themed films, hire nonwhite production people, or cast anyone but whites in race-neutral roles. Influential star George Clooney noted that it has not always been this way and concluded, "I think we're going in the wrong direction."
Rock would certainly agree. In a highly-acclaimed essay from 2014, he wrote insightfully and pointedly about inequity in the industry. His strongest argument, however, was not on behalf of Blacks, but on behalf of Mexicans: "You're telling me no Mexicans are qualified to do anything at a studio? Really? Nothing but mop up? What are the odds that that's true? The odds are, because people are people, that there's probably a Mexican David Geffen mopping up for somebody's company right now."
So much is waiting on the stage of the Dolby Theater on the night of February 28. It will be Rock's job to make us laugh while he makes sense of this inexplicable situation. It's a lot to put on his slender shoulders. This isn't just about the movies – it's about the passive prejudice that permeates our entire society. If anyone is up for the task, Chris Rock is. Chances are he will teach us all something and have us quoting him with tears and laughter for weeks – maybe years – to come.
64 Total Views, 2 Views Today