For those of you who missed it, the 2013 conference theme of the American Studies Association of Germany held in Erlangen was "Rural America." As someone from Iowa, I thought I might be the only one attending. Luckily I wasn't, and lucky for you there is so much more to say about such a hot topic: hot as in chili powder, the kind used in authentic Mexican restaurants popping up all over Iowa, and hot as in a sunny, humid August afternoon. Oh, there's no place like home.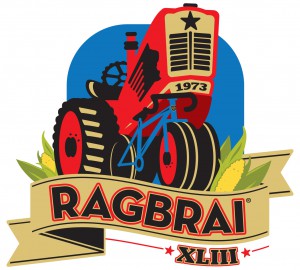 If you don't know where Iowa is, you are, unfortunately, not alone. Many people confuse our state with Idaho. In fact, my favorite bumper sticker reads: "Iowa—And, no, we don't grow potatoes." So, yes, we Iowans do have a bit of public relations to do. Besides, some of you might be planning a vacation or class trip to the U.S. and might want to consider a new destination. Why go to California, New York, or Florida like everyone else? Dare to be different, and you just might have fun in the process. Iowa and fun are definitely not mutually exclusive.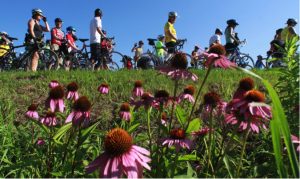 Even though it might sound like it, RAGBRAI is not a pesticide. It is an acronym for the Register's Annual Great Bicycle Ride Across Iowa. RAGBRAI was founded in 1973, and although it was originally planned as a one-time event, RAGBRAI has been held annually ever since. The tour takes bicyclists on an average 468 miles from the Missouri to the mighty Mississippi River and changes each year. In 2015, it will be held from July 19-25. This time it will cross much of northern Iowa, starting in Sioux City, proceeding through Storm Lake, Fort Dodge, Eldora, Cedar Falls, Hiawatha and Iowa River Landing/Coralville, before ending in on the Iowa/Illinois border city of Davenport. Since the world's oldest, largest, and longest bicycle touring event for amateurs and a few professionals is so popular, RAGBRAI is limited to 8,500 week-long riders and 1,500 day participants. Ride alone, ride in a group. Ride for a day, or for the entire week. It's not a competition, so just R – I – D – E. Legend has it that the word "Iowa" means "rolling hills" in honor of the Native people who originally resided in the area, so every year some participants are surprised that they do have to work up a sweat in places. It's hot, I say.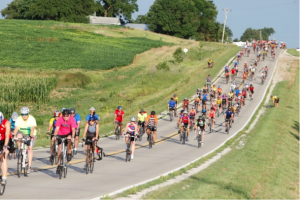 The best part is not the cycling; it's the challenge, people, stories, parties, and food. Eight communities come together to host the participants. The United States may be a country of individualists, but events like these are ties that bind. Online registrations ends on April 1, 2015, so sign up soon for the ride of your life.

52 Total Views, 2 Views Today