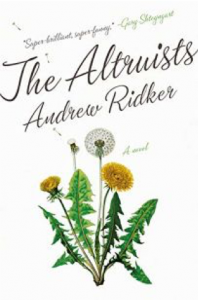 I met author Andrew Rid­ker at the Heine-Haus in Lüneb­urg on Octo­ber 21, 2019. After the inspir­ing evening, he kind­ly agreed to an email inter­view with the Amer­i­can Stud­ies Blog. His nov­el, The Altru­ists, describes a dys­func­tion­al fam­i­ly bur­dened by their respec­tive pasts and their attempts to repair shat­tered rela­tion­ships. Ulti­mate­ly, as the title sug­gests, it is also about being good.
SV: Your debut nov­el, The Altru­ists, is reap­ing the high­est praise from crit­ics in the U.S. and beyond. How are you cop­ing with all of the attention?
AR: I'm extreme­ly grate­ful for the kind reviews, which have exceed­ed my expec­ta­tions, but in my expe­ri­ence those highs have an expi­ra­tion date of rough­ly twen­ty-four hours. After that, it's back to work.
SV: In Octo­ber, you went on a book tour in Ger­many (Berlin, Göt­tin­gen, and Lüneb­urg), Aus­tria (Salzburg), and Switzer­land (Zürich). Was it your first vis­it to these Ger­man-speak­ing coun­tries? Did any­thing sur­prise you?