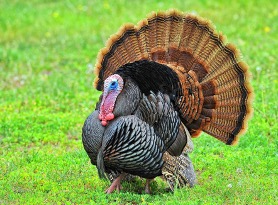 For Thanks­giv­ing, let's do with­out turkeys, these beau­ti­ful birds that Ben­jamin Franklin called "true Amer­i­can orig­i­nals." Well, a lot of good that did them! More than 46 mil­lion are killed each year at Thanks­giv­ing alone.
Ben Franklin admired their resource­ful­ness, agili­ty, and beau­ty. In nature, turkeys can fly 55 miles an hour, run 25 miles an hour, and live up to four years. Yet turkeys raised for food are killed at the age of 5 months and – dur­ing their short lives – will be denied even the sim­plest plea­sures, such as run­ning, build­ing nests, and rais­ing their young.
But let's not only think about turkeys, let's also think about ourselves.