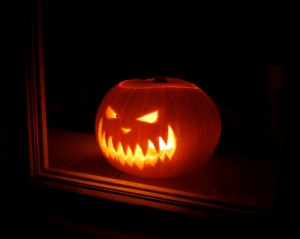 It's the time of the year for the undead to become alive again and for the living to be given the creeps. It's a time of the year that children have been looking forward to for months and that even adults get excited about. The end of October marks the time of Halloween: spooky costumes, scary pumpkins, and possibly several bags filled with sweets and candy.
Even though the tradition of Halloween is a fairly recent phenomenon in Germany, you'll find frights and thrills aplenty. So in case you don't have anything planned yet, here are some ideas for you:
Have you ever thought about celebrating Halloween in a theme park? Movie Park Germany opens its doors for the "Halloween Horror Fest Sweet 16". Dive into a world of zombies, monsters, and undead creatures to celebrate the fest's 16th birthday in five horror mazes.
If you're up for some fun before fading into the night's darkness, you should check out this year's zombie walks that take place in several German cities. Have a look at Mask World to find out what happens in your hometown!
You're not really the dress-up-kind-of-person? There is no reason to worry. You can always visit Ludwigburg's famous pumpkin exhibition to get in the right mood for Halloween. This year's theme: Pumpkin Royal – a fun and entertaining happening for literally everyone from the very young to the very old.
Pumpkins are cool, but you're up for the real creeps? Check out special Halloween events at the Dungeon in Hamburg or Berlin! These "Homes of Halloween" open their doors for the bravest of all, presenting you with an eerie show that you will most likely remember for the rest of your life – should you survive!
If you secretly wish that Halloween lasted just a little longer – here's another treat for you! The twelfth Weekend of Horrors takes place from November 14-16 in Oberhausen. On 6,000 m² you can spend an exciting weekend filled with stars, great shows, and activities that are bound to make you shiver with pure horror.
And if you can't go to any of these events, you can always watch this video:

Happy Halloween, everyone!
363 Total Views, 5 Views Today