One week before Christmas and no gift in sight?
Allow me to assist you out of your plight
For who really wants one more thoughtless gift?
Doomed to be piled on the re-gifting snowdrift
So why not create a story to tweet
In 140 characters – short and sweet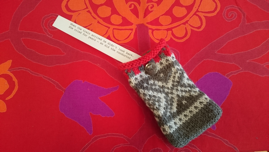 Well, actually in 280 characters or less as Twitter has recently doubled its tweet length. No Twitter account or money is required – just a bit of time. There's no reason to fall under the glamour of the pre-holiday commercialization craze. All you need is a seed for a story that you can let grow and trim back into shape. You can do the old-school thing and write or type it on a decorative piece of paper. Then just stuff it into a little stocking. Of course, you can text or WhatsApp your gift of twiction as well. In search of ideas? Then take a peek at some of the twiction from my creative writing students.
The warmth of your fingertips spills into my waist, my back, my neck. It's a different kind of heat, the one that soaks through the skin right into the heart. The one that stays for breakfast.
– Johanna
He looked her in the eyes while he took another sip of wine. It tasted strange. She stared back, smiling. He gagged and died.
– Annika
Love and hate slow-dancing to the sound of freedom until — a scream! — the music stops.
– Daria
A strange force made his body move, made him aim. He knew how to shoot his M4 even tho he couldn't remember why: but smth took ctrl.
– Chris
I knew kicking him in the shins, hard, wasn't really the point of it. Self-defense courses for girls should be nice. Unprotected shin. Sorry.
– Sassetta
Once I made a cake from sugar, eggs, and more. It was nothing special at all, but people liked it so they might like this story as well.
– Sally
When the train arrived he didn't look back. She cried for years — so did the conductor.
– Adele
He smiled her worries away not thinking of the problem itself but his big checkbook — his number one problem solver.
– Kai-Arne
Oh no, not again! Where are all these horrible smells coming from? Can't I just sleep and wake up in October with a healthy baby in my arms?
– Steph
The wilderness took its toll on him. In his solitude he forgot that it was not the rhythm of the world that mattered, but that of his heart.
– Anastasia
"Too much candy is gonna fatten you up," the stranger said to two young girls with a chocolate Santa. "No worries, we're gonna puke later."
– Pauline
Cool guy stepped right into the scene. Fist bump. "What's up?"… Silence. A life behind sunglasses.
– Florian
I saw him on the bridge, couldn't stop him, couldn't understand. Now I'm here, cause I wanna do the same.
– Monja
They broke up. He moved back in under the kitchen table. At 1st she hated it. Then she fed him cookies. It's nice to never be totally alone.
– Nina
Tears press against my eyes surveying your soft skin, light hair, warm eyes. Fragile as your body is the love I cradle in my fingers.
– Shirin
Jewels in the bag. Ready to brag. Hot-wired the car. Didn't get far. Getaway wasn't swift. Couldn't drive a stick shift.
– Maryann
537 Total Views, 3 Views Today