Let's face it: Generation Y – affectionately known as Gen 'Why' – is not exactly politically minded. This was all the more due cause to develop a project geared to ignite students' passion for politics, in this case, solving the riddle of the U.S. Election System.
The question posed by Leuphana University Lüneburg, the State Institute for Education and Media of Berlin-Brandenburg, eXploratorium/Life, and the Amerika-zentrum Hamburg was how to garner students' interest in the U.S. political system while simultaneously teaching contemporary U.S. culture and improving their communicative competence in English. This idea developed into a two-month project, with special emphasis on new media, such as Internet learning platforms, MOOCs, and intercultural/democratic education.
In 2012, over 1500 students from various schools across Germany gathered to take part in this now award-winning project in which students predicted the election results with astounding accuracy.
Watch one of the winning student submissions (category "Animation") below, an animated mock debate between Barack Obama and Mitt Romney.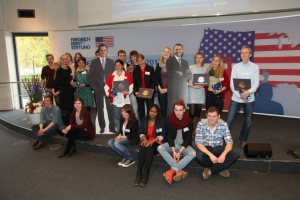 A group photo of the winning teams.
38 Total Views, 1 Views Today