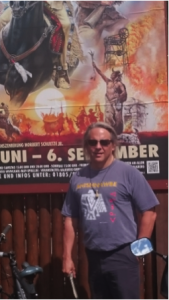 After a dozen trips or more to Deutschland, I can officially say I consider Germany to be my home away from home. Each visit reunites me with old friends, and if I'm lucky, I get the opportunity to make new ones. I've grown fond of the land and the people. Upon reflection, I think I have quite probably seen more of Germany and its cities than most of its citizens. I lost track after the thirtieth town. Or was it the fortieth. … Hard to say. After this many trips, it's all a blur of schnitzel and white asparagus.

This last trip was perhaps the most gratifying in a unique way. Over the past two decades, I have heard repeated tales detailing the exploits of a certain Native (in theory anyway) hero that sprang from the mind of a German writer named Karl May. In his many manifestations, Winnetou and his buddies feature quite prominently in the German psyche. The novels, written in the late 1800s, later became a series of movies and eventually a series of plays. Both the character and the author have been a springboard for a certain fascination with Native North American culture.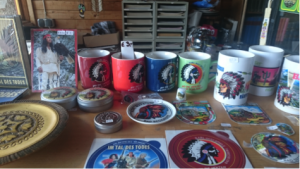 I had read one of the books, but as a practitioner of the theatrical arts – of the playwright variety – and as a Native person – of the Ojibway variety – it was becoming increasingly frustrating that I never had the opportunity to see a production of the play.
Finally, in the northern town of Bad Segeberg, my abstinence ended, and I saw the Apache chief Winnetou himself ride into the amphitheatre on a huge horse with an eagle perched on his arm. I must remember that entrance the next time I lecture in Germany. Theatrically, the production was magnificent. Politically, it was questionable. Culturally, it was problematic. Aboriginally, it was clichéd. Objectively, it had great production values. So adding that all together, on a personal level I was somewhat conflicted…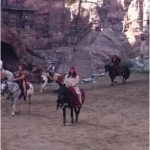 I saw the show with three good friends surrounded by approximately 4,000 enthusiastic theatre goers who swooned with Winnetou's every entrance and gesture. That's more than most Native people or characters get in North America. So I ended up feeling a little envious.
Maybe there's something for North Americans to learn here…
10,954 Total Views, 78 Views Today