"[This] again proves my theory that Germans love David Hasselhoff," concludes Norm Macdonald on his Saturday Night Live segment "Weekend Update" in the early 90s. The crowd roars with laughter, the punchline has become a favorite among them for quite a while. "Those silly Germans," Macdonald's eyes seems to say.
Over twenty years later, the joke might not be remembered but the sentiment certainly persists. Many Germans complain on their travel blogs about getting asked about "The Hoff" while traveling around the USA. Some of them barely know who he is. Indeed, today's young adults might only faintly remember Hasselhoff for running around in red shorts, talking to cars, and having his drunken misdemeanors captured on camera. This has not always been the case.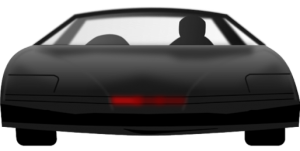 During the 1980s, both of Hasselhoff's shows, Knight Rider and Baywatch, were largely celebrated in Germany. That is to say, not only in Germany. Baywatch was exported into 144 countries with over a billion people worldwide sitting in front of their TVs every week. His shows featured elements that were exciting for German viewers: futuristic technology and attractive young actors in very little clothing on sunny beaches. "The Hoff" consequently made his way into German magazines for teens – like Bravo and Mädchen – but so did John Travolta and Patrick Swayze. What made Hasselhoff so different?
Hasselhoff's influence on Germany and its capital Berlin seem to be due to historical circumstance. In the 1980s, young Europeans were strongly influenced by an anti-Cold War sentiment which also made its way into pop culture and the music of the time. Songs like "99 Luftballons" by Nena and "Everybody Wants to Rule the World" by Tears for Fears are just two examples. At the same time, Hasselhoff decided to start his singing career. In 1988, he released his single "Looking for Freedom," which became an instant hit all around Europe but especially in Switzerland, Austria, and Germany, where it held the No. 1 position in the charts for 8 weeks.
Hasselhoff's song was obviously less politically charged than the aforementioned songs, but it featured a happy upbeat to which people enjoyed dancing. Additionally, the German-speaking crowd was already familiar with the melody. German music producer Jack White had previously released the song in 1978 with folk singer Tony Marshall, singing in German "Auf der Straße nach Süden" (On the Road to the South). This song, too, had been a major hit.
As Hasselhoff was the most popular and best-selling artist in Germany in 1989, German broadcaster ZDF invited him to perform the song on their New Year's Eve event at the Brandenburg Gate. Hasselhoff was eager to accept and performed the song in front of an excited crowd of reunification activists, wearing a leather jacket featuring blinking lightbulbs and a scarf with a piano keyboard pattern.
While it is nice to imagine that it was Hasselhoff's voice alone that blew the Berlin Wall away, it is important to note that it was already being deconstructed at this time. Earlier that year, a series of protests in East Germany and Eastern Bloc countries, such as Poland and Hungary, had caused a chain reaction that had resulted in the East German government opening the wall for travelers. Merely seven weeks before the concert, on November 9, 1989, news outlets all over the world reported that the Berlin Wall had finally fallen. As the images of Hasselhoff performing in front of the Berlin Wall resurfaced without context in the 90s, paired with the jokes featured on Saturday Night Live, many international viewers began to think – or at least hope – that it was "The Hoff" himself who inspired the East Germans to stand up to their regime.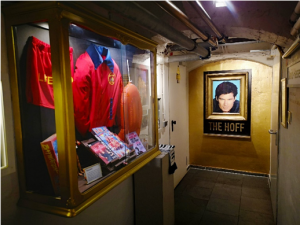 Considering that Hasselhoff's performance took place 30 years ago, many would imagine that Hasselhoff's popularity in Germany, especially among younger Germans, has diminished. One hostel in Berlin, however, is on a mission to preserve Hasselhoff's legacy. The first and so far only David Hasselhoff Museum in the world opened in the basement of the popular hostel, The Circus, in 2015 in order to "pay homage to the man who brought down the wall with his voice and this epic scarf," as the owners write on their homepage. At first only a giant portrait of "The Hoff" had attracted tourists to take selfies; then the hostel started to collect knick-knacks depicting Hasselhoff's career. Nowadays, visitors can marvel at various props from Baywatch, like Hasselhoff's red swimming trunks and lifebuoy.
The centerpieces of the small museum are without a doubt a piece of the Berlin Wall and the piano-scarf the singer wore during his performance on New Year's Eve 1989. A plaque above the items informs the visitors that Hasselhoff himself "tore down the Berlin Wall […] freeing millions of eastern Europeans from communism. Forget what the history books say." Despite the good-natured irony of the exhibit, David Hasselhoff, who visited the museum in 2016, said that he felt very honored. After all, he still laments the fact that he is not mentioned at the Checkpoint Charlie Museum.
Hasselhoff, still fond of Germany and its capital, toured the country in 2018 and is already planning on coming back in 2019. Not everybody will understand "The Hoff's" significance, some still don't even know who he is. Yet it is safe to say: Germans love David Hasselhoff. Because: Wasn't he the one who tore down the Berlin Wall with his voice?
603 Total Views, 3 Views Today