Usually, the spouses of vice presidents of the United States don't attract much public attention. Many Americans probably can't even name more than two or three second ladies, but that is just a guess. Yet Doug Emhoff is the husband of Kamala Harris, the first female African American, South Asian American Vice President of the United States. He's becoming a household name and breaking down barriers as America's first Second Gentleman as well as the first Jewish spouse of any vice president. Does that really matter, you might ask yourself? It shouldn't, but it does. Let's take a look at a clip from an interview taking social media by storm that gives us insight into his popularity:
So is he 'just' a father as well as a charming and supportive husband of a 'Powerfrau,' as we would say in German? Or will he play a real role in American life and politics? What can we expect of a man in the role of Second Gentleman?
Before I share what I've learned so far, let's take a look at the role first ladies play and ponder whether the Second Gentleman will follow suit. First ladies are not elected officials and have no official duties prescribed by the U.S. Constitution. Yet they have become an integral part of American public life. To name a few of the duties they assume: First ladies act as mediators between the private and public lives of the first family. They participate in representative political, social, and cultural functions, many of which include extensive travel. They additionally support their spouse's agenda in diverse ways, and "claim the 'soft' issues such as education, health, women's advancement and communication with the public" (Kohl). It's actually a full-time job, so all of the previous first ladies who had day jobs or careers – including Michelle Obama – dedicated their time as first ladies to their families and fulfilled public expectations. Dr. Jill Biden is probably the first First Lady to continue working after her husband took office, and Doug Emhoff is the first Second Gentleman to do so as well.
Doug Emhoff plans to teach while serving as Second Gentleman. While he did take a leave of absence from his law firm to avoid potential conflicts of interest, he joined the faculty of Georgetown University Law Center as a Distinguished Visitor. Similar to other first and second spouses before him, he plans to use his position for good causes, though equal access to justice and legal representation are not exactly 'soft issues.' So yes, he'll likely take a back seat to the First Lady, but he will assume many of the same roles she does. At the same time, my guess is that he won't be involved in activities, such as renovating the vegetable or the rose garden as Michelle Obama and Melania Trump respectively did.
Moreover, as Second Lady, Dr. Jill Biden did work together on a project with First Lady Michelle Obama. Their initiative was called "Joining Forces" and was a call to support service members. Thus, I'm curious whether the new First Lady will join forces again in some way with the Second Gentleman. In any event, we'll see how both the First Lady and Second Gentleman will manage their work-life balance.
Then there's the topic of media presence and Twitter. On January 19, one day before the Inauguration, Doug Emhoff's Twitter account (@SecondGentleman) was ready to go and already had 538,008 followers. And now, he has 1.4 million (at the time I wrote this blog) and a total of three tweets, the first of which was not too surprising: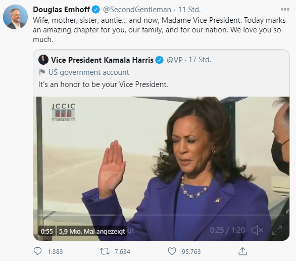 While he seems to be taking his new role seriously, Doug Emhoff doesn't want to just be limited to the role of the Vice President's husband. For example, he still maintains his own Twitter account (@DouglasEmhoff) as does the First Lady by the way.
And although there's much we don't know about how great a role the Second Gentleman will end up playing in American politics and life, one fact stands out above all others. As a 'gender bender,' he's fostering a concept of American masculinity much different from many of the men of the previous administration: "I want more women in office, and I want more partners, whoever their partner is, to support them and to provide an opportunity and an environment for success." And to that, I have nothing more to add.
11,088 Total Views, 2 Views Today