This week's installment concludes our series on the fall of the Berlin Wall. Enjoy!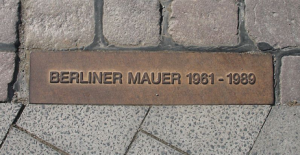 Bobbie Kirkhart, Los Angeles
When I was very young, I imag­ined there was a wall just beyond my view, mak­ing sure I could not ven­ture into the for­bid­den world. It made a strange shape, sur­round­ing all the ter­ri­to­ry I could explore and block­ing every­where I could not. Per­haps it was that I was by far the youngest in my fam­i­ly, so that every­one else was an adult in my eyes and there­fore free. What­ev­er the rea­son, I accept­ed as sim­ple truth that I was banned from a world where every­one else was free to go. As I grew old­er, I real­ized that the wall was a metaphor, but I saw it as no less a real­i­ty in my life.
I was well into my 40s when that changed.
I had set­tled inside my metaphor­i­cal wall with­out think­ing much about it. Every­one, after all, encoun­ters lim­its. I saw no rea­son to rail against mine, at least I did not until the brave cit­i­zens of East Berlin showed me how to deal with walls.
As an Amer­i­can who had nev­er been to Europe, the Berlin Wall had sim­ply been a polit­i­cal sym­bol to me, a bit­ter state­ment of the Cold War. I was, of course, hap­py for its fall, admir­ing the courage of its destroy­ers, rev­el­ing in their joy. The more I watched, the more I real­ized this was not sim­ply a polit­i­cal vic­to­ry – it was, more than any­thing, a per­son­al vic­to­ry. The East Ger­mans were the heroes, of course, but much of the world shared the tri­umph that was per­son­al to each of us, empow­er­ing each of us. The world looked to the East Berlin­ers because in destroy­ing one wall, their exam­ple dam­aged many walls – some of them metaphorical.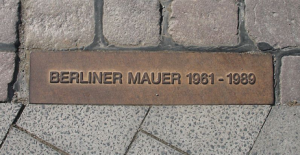 Evangelia Kindinger, Berlin
I moved to Ger­many in 1990. When the wall had come down, I was an unsus­pect­ing third-grad­er on a Greek island. I don't remem­ber any strong reac­tions from my par­ents, not even from my Ger­man moth­er. I now know that is has influ­enced her more than I thought, as she talks about vis­it­ing East Berlin as a teenag­er and reads a lot of lit­er­a­ture about the divi­sion. I nev­er expe­ri­enced a geo­graph­i­cal­ly divid­ed Ger­many and have to admit that this part of his­to­ry does not affect me much. I can only guess how mean­ing­ful it was (and is) for those affect­ed direct­ly and indi­rect­ly. I just moved from Bochum to Berlin. There­fore, it is all the more present and vis­i­ble now but still not part of my biog­ra­phy and history.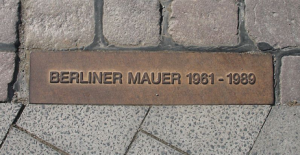 Lynette Kirschner, Lüneburg
I immi­grat­ed to Ger­many in 1988, and my first one and a half years were very event­ful. On Novem­ber 9, 1989, I was vis­it­ing my moth­er-in-law in Quak­en­brück to cel­e­brate her birth­day the next day.
The birth­day cel­e­bra­tion, how­ev­er, turned out dif­fer­ent­ly than planned. We end­ed up glued to the tele­vi­sion, watch­ing the unthink­able unfold. When the East Ger­man offi­cial, Gün­ter Sch­abows­ki, inad­ver­tent­ly opened the bor­ders, we were flab­ber­gast­ed. But if he did the unthink­able, so could we. We con­grat­u­lat­ed my moth­er-in-law before her birth­day on the 10th (a very taboo thing in Ger­many), packed up our car, and drove to our apart­ment in Lüneb­urg, at that time a bor­der town.
Berlin was swamped with Tra­bis, and Lüneb­urg was cov­ered by the grey smoke of this very cute, but also very odor­ous car. The stores stayed open longer, peo­ple went out to greet the East Ger­mans, and the first 'couch surf­ing' office opened that week­end. Peo­ple left their address and tele­phone num­bers at the tourist infor­ma­tion cen­ter in case any­one from East Ger­many want­ed to spend the night, free of charge. It was a euphor­ic expe­ri­ence. But I also remem­ber the inten­si­ty of the evening: Pic­tures of peo­ple amass­ing at the Bran­den­burg Gate, the inten­si­ty of the live news cov­er­age, and the very real fear that peo­ple would be shot or that a bor­der skir­mish might break out.
With hind­sight, it is clear that the wall was going to fall at some point. How­ev­er, despite the East Ger­man Head of State, Erich Honeck­er, resign­ing on Octo­ber 18 and West Ger­man Sec­re­tary of State, Hans-Diet­rich Gen­sch­er, giv­ing safe pas­sage to thou­sands of East Ger­mans crowd­ed in the West Ger­man Embassy in Prague and Budapest, the Wall was seen as immutable by every­one. Isn't it great how things can change?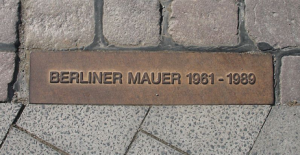 Maria Moss, Lüneburg
I was liv­ing in L.A. at the time, doing research on my Ph.D. the­sis and try­ing to become a pro­fes­sion­al surfer. When I got home one day, I had a mes­sage on my answer­ing machine from my friend Chris­tiane: "Die Mauer ist weg." The wall is gone? Which wall? THE WALL? In shock, I ran to the tele­vi­sion set I shared with my room­mates. In awe, I saw Peter Jen­nings in front of the Bran­den­burg Gate with peo­ple behind him jump­ing up and down ON THE WALL – appar­ent­ly with­out get­ting shot.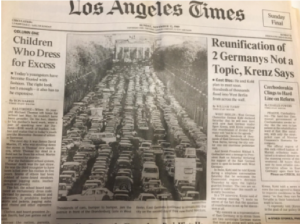 Peo­ple were wav­ing flags – very unusu­al at the time – and the Ger­man nation­al anthem was play­ing in the back­ground – even more unusu­al. Peter Jen­nings explained that the anthem is part of Haydn's famous Kaiser Quar­tet – some­thing I nev­er knew. The next day, peo­ple came up to me to con­grat­u­late me and tell me how won­der­ful they thought this was. I've always liked Cal­i­for­ni­ans, but on that day I tru­ly loved them.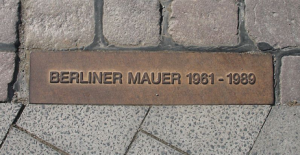 Monica Ortez, Los Angeles
I remem­ber U.S. Pres­i­dent Ronald Reagan's trip to Berlin in June 1987 where he gave his famous, "Mr. Gor­bachev, tear down this wall!" speech. And only a lit­tle more than two years lat­er, I was in my apart­ment, glued to the tele­vi­sion set, watch­ing Ger­mans from both West and East Ger­many hug­ging and cry­ing. At Check Point Char­lie, they were all over the wall, like hordes of ants on a mis­sion, try­ing to get to the oth­er side. Sledge­ham­mers bashed against the wall over and over until it start­ed to crack and crum­ble. They were "free at last." I was also think­ing of my good friend Maria Moss that night, as she did not live far from the GDR bor­der near the Elbe Riv­er. How often has she dreamt of the two Ger­manys being one again.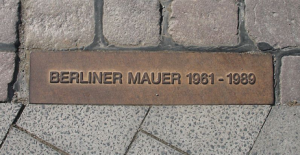 Cheryce von Xylander, Berlin
I'd grown up in Berlin but was study­ing at Stan­ford when the Wall fell. Liv­ing in the Bay Area, a major earth­quake struck in Octo­ber of that year, killing 67 peo­ple. A few weeks lat­er, the Berlin Wall fell – and no one was killed. To an insid­er look­ing on from the out­side, the news from home was unin­tel­li­gi­ble in sen­tient terms. As scenes of a city no longer divid­ed played out on tele­vi­sion, the two events came to seem strange­ly con­nect­ed. They felt sim­i­lar­ly unex­pect­ed, over­whelm­ing, and trans­for­ma­tive. Seis­mic forces were at work in both set­tings, a transat­lantic con­cate­na­tion of pro­gres­sive erup­tions. The upshot: Berlin's Mauer­fall tips my per­son­al Richter scale at 6.9!
14,792 Total Views, 3 Views Today