This week's installment concludes our series on the fall of the Berlin Wall. Enjoy!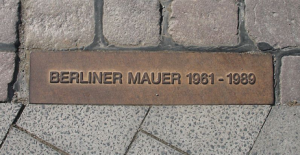 Bobbie Kirkhart, Los Angeles
When I was very young, I imag­ined there was a wall just beyond my view, mak­ing sure I could not ven­ture into the for­bid­den world. It made a strange shape, sur­round­ing all the ter­ri­to­ry I could explore and block­ing every­where I could not. Per­haps it was that I was by far the youngest in my fam­i­ly, so that every­one else was an adult in my eyes and there­fore free. What­ev­er the rea­son, I accept­ed as sim­ple truth that I was banned from a world where every­one else was free to go. As I grew old­er, I real­ized that the wall was a metaphor, but I saw it as no less a real­i­ty in my life.
I was well into my 40s when that changed.