The 2020 U.S. election has people around the world on the edge of their seats, wondering who will become the next President of the United States. The two candidates – former Vice President Joe Biden and the incumbent President, Donald Trump – would become the oldest men to ever have held this office. Another 'first' is Biden's VP pick, Kamala Harris, junior senator from California, the first-ever woman of color running on a presidential ticket. In addition, a global pandemic, an economic crisis, and nationwide demonstrations protesting systemic racism make this election more exciting than ever.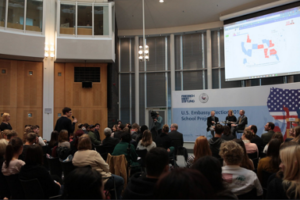 While U.S. pollsters, such as Larry Sabato or Nate Silver, predict a likely victory for Democrat Biden, Trump's 2016 surprise upset lead many pollster to ask how reliable election polls really are. And sometimes, the best pollsters are not those featured in the news, but are those found in high school classrooms.
More than 5,000 students and teachers from Germany and the U.S. in over 300 classrooms participated in the U.S. Embassy School Election Project to predict the outcome of the 2020 presidential election. For the fourth time since 2008, this cooperation of the U.S. Embassy Berlin, LIFE e.V., and Leuphana University Lüneburg asked a simple, yet exciting question: Can high school students teach pollsters a lesson and predict the election outcome more accurately than the professionals?
Facilitated by the fully online teaching platform Teach About U.S., participants were assigned one U.S. state whose virtual citizens they would be over the next couple of weeks. Between the summer holidays and the week before Election Day, they enrolled in an online classroom, learned about the ins and outs of the electoral system, explored the campaign issues likely to decide the election, and followed the local, national, and international news. Fact sheets of all 50 states provided statistics about their state's population, voting history, economy, level of education, and income inequality.
But that's not all: With the help of the Transatlantic Outreach Program at the Goethe Institute in Washington, D.C., we connected classrooms on both sides of the Atlantic directly. In addition to dedicated 'tandem tasks' in their joint Moodle course, they met via Zoom, used instant messaging to text each other, and created joint websites, blogs, or Padlets to document their collaboration. American learners, most of whom had never traveled abroad, received an international perspective on their country and culture, while German students could put their foreign language skills to the test while gaining first-hand information on the election campaign of their adopted state. One German teacher highlights how the exchange facilitated students in looking beyond their own political preferences and reach across the proverbial aisle:
In April, we launched a blog amidst Covid-19 to learn how people in Arkansas and Brandenburg deal with Corona and to start our cooperation while schools were closed due to the pandemic. What makes our cooperation unique is that we bring together such a large number of students and that our students have been cooperating since April. At the beginning of the school year, all German students from grade 11 were matched with a tandem partner from Arkansas. … This has been particularly interesting, as (unlike most students from Brandenburg) the vast majority of students from Arkansas strongly support Donald Trump. Students report that exchanging emails was extremely helpful to understand conservative views and U.S. values. We began to understand how important the second amendment, pro-life, and the economy are to people in rural America.
Based on their diligent research, students from 195 courses cast their state's vote and predicted a victory for Joe Biden with 334 electoral votes vs. 204 votes for Donald Trump. According to their prediction, Biden would win back key swing states for Democrats, including Arizona as well as the electoral college heavyweights Florida and Pennsylvania.
Most impressive, however, are the students' creative products, which they submitted to the project's international school competition. Let me just share these two: A class from the Berufsbildungszentrum Schleswig created a website for the state of Virginia, complete with an analysis of the campaign issues and voting history down to the county level as well as the students' creative products, such as comics and a song: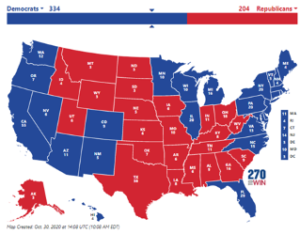 A class at Landschulheim Schloss Ising took a different approach and created a cartoon about Donald Trump's election campaign.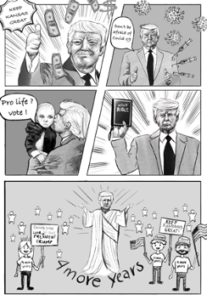 By the way, while our students' prediction in 2016 favored Hillary Clinton – as did almost every poll in the fall of 2016 – their predictions in 2008 and 2012 were more accurate than most published polls!
941 Total Views, 5 Views Today