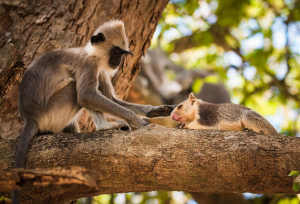 One not so common topic in the broad field of animal studies is the interaction between different animal species. Until recently, any suggestion that interspecies relationships might be based on companionship would have probably met with derision and been dismissed as anthropomorphic illusions. These attitudes, however, are bound to change as research is gradually beginning to erode some boundaries separating Homo sapiens and other animals. If you're interested (or like your students to get interested in) interspecies communication, these five videos might be the right ones to start out with:
Videos of unlikely animal friendships are popular on social media, and scientists are now considering how to define such relationships and why they are so fascinating to us. The first video raises a number of serious questions: How much human intervention (for instance in the shape of delicious treats) is necessary for animals to behave in such adorable ways? Consider the case of the hamster riding on the back of a snake – here it's completely unclear whether the snake and the hamster are best buddies or whether the snake has just been fed another cute hamster and is simply not hungry. Watch for yourself. Also, watch this cute turtle playing ball with a dog.
In the "Happy Together" video, we see a cat snuggling up to a lizard, a goat frolicking with a baby rhinoceros, and a parrot feeding spaghetti to a dog who cannot reach the pot on the stove. Can these interactions be called relationships? And can they offer more to our understanding of animal communication than a hefty dose of cuteness? But see for yourself.
Anthropologist Barbara King took up the controversy and suggested three criteria for these interactions to be called 'relationships':  they must be sustained for a certain period of time;  there must be mutuality, with both species engaged and interacting; and certain accommodations must take place during the interaction (such as a modification of behavior or communication). In most popular online videos, these criteria are clearly missing. Not so in the one by anthropologist Barbara Smuts, who is known for her work with baboons, chimpanzees, and dolphins. She filmed her dog Safi gradually making friends with Wister, the donkey. Watch her video, "Dog and Donkey: An Interspecies Friendship":
Since animals share abilities once considered exclusive to humans – including tool use, counting, certain aspects of language, and emotions – why would it be so outrageous to suggest that relationships between animals generally considered arch enemies (or at least incompatible) could not only exist, but indeed develop into long-lasting relationships?
Last but not least – here's something to just enjoy. This site has 24 hr. live cameras on all sorts of animals throughout the world – just wonderful for your browser tool bar when environmental and health worries get you down!
13,821 Total Views, 3 Views Today