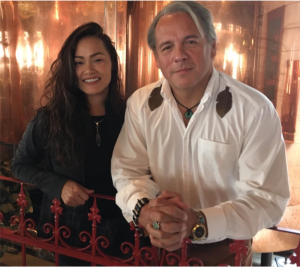 Ask any Native Studies scholar in Europe, and they will be well aware of the European fascination with Native peoples of North America – a fascination that can be traced back to the novels of 19th century writer Karl May who furthered the noble savage stereotype. The preeminent scholar for Native Studies, Hartmut Lutz, even coined a term for it: Indianthusiasm. When we heard about the 8th Indianer Inuit Festival in Stuttgart from February 6-9, 2020, two questions came to mind: Would this Indianthusiasm come to life or be deconstructed at the festival? And is "Indianer" even a term that should still be used in German-speaking countries?
So we packed our bags and took the 5½-hour train ride from Lüneburg to Stuttgart to investigate. The festival's program was quite extensive, encompassing documentaries, short films, feature films, children's films, and music videos produced and directed by Indigenous artists from North America and beyond. Apart from visiting the film screenings, we also encountered fascinating people who gave us an inkling of the impressive variety of contemporary Native artistic expression.
The festival started out with a bang with appearances by the duo Piqsiq, Tom Jackson, and Acosia Red Elk. After the two Inuit sisters from Nunavut performed both traditional and contemporary (reinforced electronically) throat-singings, and Cree actor and singer Tom Jackson sang songs in his inimitable voice, the festival arrived at the first of its many highlights with the Jingle Dress Dance by Acosia Red Elk (Umatilla), ten times world champion in this discipline. One of the festival's few disappointments – both in its uninspired script and weak performances – was the opening film, Falls Around Her (Darlene Naponse, dir.), starring Tantoo Cardinal. It is, however, impossible to please everyone.
Without a doubt, the best feature film was Indian Horse (Stephen S. Campanelli, dir.). The film, based on the 2012 novel by Anishinabe author Richard Wagamese, tells the story of Saul Indian Horse, a boy who grows up in one of Canada's infamous residential schools in the 1950s only to become a minor league hockey star. But for Indian Horse, hockey is not all guts and glory, and there are ultimately no 'white saviors.'
Documentaries were also well represented at the festival. Words from a Bear (Jeffrey Palmer, dir.) and Mankiller (Valerie Red Horse M. and Gale A. Hurd, dir.) were, for example, of outstanding quality. While Words recounts the impressive career of Kiowa writer and painter, N. Scott Momaday, first Native Pulitzer Prize winner for the novel, House Made of Dawn (1968), Mankiller tells the story of Wilma Mankiller, a woman who – despite personal and political adversity – became the first, and to-date only, female chief of the Cherokee Nation.  Another exceptional documentary – Searching for Winnetou by award-winning author and playwright Drew Hayden Taylor (Anishinabe) – played to a full house. The film holds up a mirror to German audiences without ridiculing either Karl May's depiction of the noble savage stereotype or the hobbyist movement. In a balanced account, Taylor shows multiple perspectives on hobbyism, including the dangers of cultural appropriation, the sincere desire of Germans to learn from a culture not their own as well as East German perspectives on Winnetou and the freedom he inspired.
Amateur filmmakers – students of the IAIA (Institute of American Indian Arts) in Santa Fe, New Mexico – were also given the chance to screen their short films produced between 2016 and 2019. They featured an eclectic mix of topics: Big Sister Rug (Dwayne Joe, dir.) treats an account of 11 Navajo women who wove the biggest Navajo rug ever, while Water is Life (Echota Killsnight, dir.) is a music video on the Native protest of the Dakota Access Pipeline on the Standing Rock Sioux reserve in North Dakota. Moreover, Simone (Leroy Grafe, dir.) explores the story about a young woman who discovers a dark family secret at her grandfather's funeral. All films show the impressive talents of young Native artists today.
All in all, the Indianer/Inuit festival was a delight to attend and is a must for everyone interested in contemporary Native issues. We're still, however, uncertain how we feel about the term "Indianer," since it reinforces Karl May's romanticized perceptions of Native people. And even though some Native people in the U.S. still use its English equivalent, "Indian," future festival organizers might wish to consider a new, more inclusive title.
13,205 Total Views, 3 Views Today