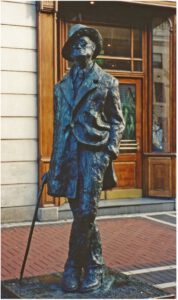 What does the novel Ulysses (1922) by James Joyce (1882–1941) have to do with American Studies? The answer is simple: Bloomsday is an annual literary festival celebrated in many U.S. cities, around the globe, and particularly in Dublin, the setting of the novel. The event is named for one of the novel's protagonists, Leopold Bloom. The novel takes place on June 16, 1904, the day that James Joyce met his later wife, Nora Barnacle. Celebration activities include dressing up in period costumes, readings, theater performances, film screenings, and art exhibits associated with the novel and Joyce's writings and life. The liveliness of the festivals testifies to the fun of reading Ulysses, especially if it's read aloud. The novel is often mistakenly described as inscrutable for the average reader, but it is perhaps more accurately described as surprisingly readable.
In honor of Bloomsday, I've imagined a tongue-in-cheek letter of condolence from Milly Bloom, now fifty-two, but at the time of the novel the fifteen-year-old daughter of Leopold Bloom and his wife, Molly, to Mrs. Joyce (born Nora Barnacle). The letter is dated 1941, nineteen years following the novel's publication and thirty-seven years following that famous day in Dublin in 1904.
15 January 1941, Agendath Netaim, Palestine
Dear Mrs. Joyce,
I was so very sorry to read in the papers this week about the passing of your husband. As you know, my family enjoyed a very special relationship with him. Father and Mother also send their heartfelt condolences. Father wishes me to tell you that he will be writing separately; his heart was really broken at the news since he was the closest of us three to your husband.
I am still embarrassed by the silly letter I wrote in 1904 at fifteen to "Papli" that made its way into Mr. Joyce's novel. I had always wished that Mr. Joyce had let me tell more of my side of things in his famous book about my parents. But alas, both he and Father thought it was a good idea to send me away to Mullingar that June. I must tell you that things were a bit difficult for us Blooms in Dublin in 1922 after the publication of the book. But I still do think that Mr. Joyce did a very good job in telling my parent's story. And besides, that book is much easier to understand than the one he wrote afterwards about that Finnegan and the wake. I am sorry to have to say it, and I hope you will not be offended by my honesty. I get that from my mother.
You will surely be wondering what we are doing in Palestine. As I said, Dublin got tight for us following the book's fame, and Father got the idea of going to Agendath Netaim, after all. So, we made our way by ship to Palestine, the home of my father's fathers. Now that the war is on, Father's only regret is not being able to see Stephen. You will not be surprised to hear that he still has his head in the clouds, but he has at least become serious about his writing. Mother is so happy to be back in a country that looks and feels like the Gibraltar of her girlhood. I am married to a lovely man and mother to two healthy children, Aaron and Ruth, who have made me proud with grandchildren. So, to be sure, things turned out all right; I only wish I had written sooner so as to share all the good news with Mr. Joyce.
Yours sincerely, Milly Bloom
P.S. No need this time for me to excuse the bad writing.
12,188 Total Views, 3 Views Today