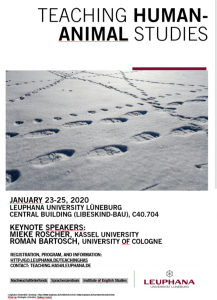 Animals are all around us. But what do we actually mean when we say "animal"? We are, of course, also animals: human animals.  
In recent years, animals have entered university life, and  scholars in fields as diverse as art, philosophy, and religious studies approach animals from different angles and methodologies. Animals are to some extent invisible until they enter the realm of the human. Then they become pets, cattle, or laboratory animals.  
Are you curious? Could this subject enrich your teaching curriculum? Then why don't you join us at Leuphana University from January 23 to 25. For further information, including registration details, see the program.
11,126 Total Views, 79 Views Today