Government Springs Park was once the pride of Enid, Oklahoma. During my childhood, government was considered a good thing, so we often used that full name in admiration. Today it's usually called simply Springs Park. Every school child knew it had been a camp site on the old Chisholm Trail, the best known of the routes used to drive cattle from Texas to the Kansas railroads after the Civil War.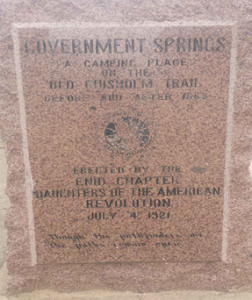 It was a perfect campground: hills overlooking the flat land where the cattle grazed and, most important, the drinking water from natural springs that fed the lake. These things also made a perfect park for children: the flat land – then punctuated with unsafe but exciting wooden swings, hand-operated merry-go-rounds, and seesaws – was great for running. We could drink from the springs, at that time corralled by a pipe. I'm sure the water was less than pure, but I never knew anyone to get sick from it. We could climb the gentle hills to the swimming pool, and, on special occasions, my father would spring for a quarter to rent a rowboat to take us on the lake.
It was a child's paradise except that we could never climb the steeper hills on the south side of the lake. That was reserved for the "colored people," as the other two-thirds of the park was reserved for whites. I was curious, as children are about anything forbidden, but never dared to go. I understood my parents didn't agree with the law, but it was the law, and arguing was not permitted.