Whether it's the mo(u)rning routine of having to leave your beloved bed, or the deviously brilliant book that won't let you stop turning pages while the digits relentlessly move towards 3 a.m. – there are quite a few occasions where having more time would come in handy.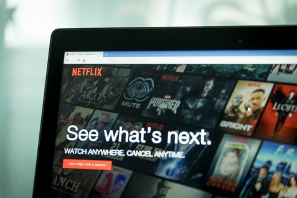 I'll spare you any more time-consuming passages of introduction and cut right to the chase:
Netflix is testing a feature that lets users accelerate playback speed up to 1.5 times the normal speed. Ever since the news went viral, Netflix was hit hard with backlashes from a number of moviemakers and actors. Netflix defended the choice by stating it's been a "heavily requested feature from subscribers."
It's impossible for me to validate whether that's true or not; what we do know is that as of now, Netflix is only testing the feature on a small fraction of their customers and only on Android devices. And even if this were to become a regular feature, as long as Netflix doesn't force customers to indulge in streaming-quickies, it's all fine, isn't it?
Certainly. But something tells me that Netflix doesn't consider its bold move to save their subscribers time. In November 2019, Netflix CEO Reed Hastings stated that subscriber totals weren't the best way to measure which service was winning "The Streaming Wars," clarifying that "time will be the real competition." Back in 2017, Hastings had declared sleep to be Netflix's biggest competition. (Author's note: Studies show that up to 88% of American adults regularly sacrifice sleep in order to stream content.)
The backlash from filmmakers, actors, and others involved in the creative process has been harsh. Many consider Netflix's time experiment an assault on art itself. And I can see why: A movie's timing and pacing are part of the artistic process and far from random. There's this thing called nuance. It's not for free, though, but rather demands the viewers' attention and reflection. One might fear that if 'speed-streaming' were to become a common practice, movies and shows would not be unscathed.
However, that's pie in the sky. By paying their monthly fee to Netflix, users have done their share and 'own' the content made available to them, but don't 'owe' the creators anything. Fair enough. Let's now focus on the audience – ourselves. Why do we watch a movie or a show? Is it about information? About mere knowledge of the plot? If so, the most efficient way would be to read one plot synopsis after another. That's silly, so that's not it. Is it the infamous fear of missing out, both on all the great (and maybe even not so great) content and on conversations about that content with friends? Maybe. Maybe that's why series feel like work to some. I've actually heard people moan in agony, realizing they're beginning to love a multi-season show.
Relax. That's what I want to tell these people. And you. And myself. Let's ask ourselves: Why would we feel the need to rush to the end of something we actually enjoy? The newness of a yet unwatched episode or movie doesn't ever come back, so why not cherish that feeling while it lasts?
Maybe this is the time to say that I am a Netflix subscriber, that I like it a lot and appreciate what it offers. But I also want to be conscious about the way I use it. If there's little time, why not watch one episode instead of two? Or half an episode? Why not ditch a show you're not that invested in? Or, if necessary, stay away from Netflix for a while? Whoops, just this moment I'm realizing that those suggestions I'm offering here might be viable options for us, but certainly not for Netflix. Well, that's okay. They've got their priorities. Let's have ours.
69 Total Views, 4 Views Today