What makes a piece of fiction successful, apart from a good portion of luck? Well, some writers deem the craft of 'plotting' essential for creating fiction that goes somewhere, while others prefer to write from the seat of their pants and are likely to dread the prospect of their art being anything less than inspiration, talent, and vision.
Let me introduce you to two writing guides that might offer some perspective on the initial question. First, let's visit someone who claims that both 'pantsers' and plotters are on the wrong track because …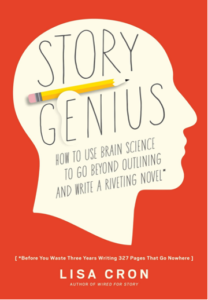 It's all about STORY. What sounds like a no-brainer is literally the opposite according to Lisa Cron, author of Story Genius: How to Use Brain Science to Go Beyond Outlining and Write a Riveting Novel (Before You Waste Three Years Writing 327 Pages That Go Nowhere). Cron's approach rests on a set of premises: Plot is not story; every piece of fiction is character-oriented; and our insatiable craving for stories is deeply rooted in our human psyche.
Cron used her long experience as a writing instructor to craft this manual, which she calls "100% prescriptive." And this is where the title words "brain science" come into play. Cron claims that we're all "wired for story" (which, by the way, is the title of a more conceptual book she previously wrote). For her, adhering to a certain story structure is also the key to creating novels people love to read. It is, therefore, not the inability to write but the inability to tell story that makes many authors fail.
One should not be misled by the title and expect a focus on brain science. The neural aspect is little more than a foundation for Cron's premise and maybe quite literally the hook to make readers grab a copy. That's quite ok with me, though. My biggest point of contention are the repetitions that might make some readers skip entire sections of the book. However, others might welcome Cron's fervor when conveying what she deems to be the most crucial points. At any rate, the book is not your typical plot guide, but forces you to be adamant, to get to the heart of the story, scenes, and characters.
Cron's book is a very practical guide, and writers working on a project can use it as a step-by-step and scene-by-scene companion while crafting their story and its compelling characters. Thus, it might give persistent plotters – who up till now felt that something was missing – a valuable new perspective and offer radical pantsers a way out of the occasional feeling of sailing the seven seas without a compass.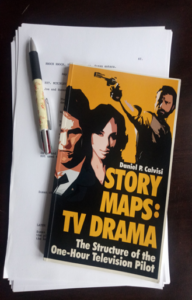 When it comes to the realm of screenwriting, however, pantsers are a rare breed. Unless a screenplay is highly experimental, it sticks to a tight structure with different acts visually separated from each other. Daniel Calvisi, screenwriter, screenwriting teacher, and former story consultant of major Hollywood studios, demonstrates the art of weaving compelling stories into that format in his book, Story Maps: TV Drama – The Structure of the One-Hour Television Pilot.
On only 115 pages, Calvisi conveys the basic structure of a television or web TV episode. And yes, the book feels like a textbook you might read while attending a television screenwriting class, yet it goes the extra mile by constantly showing us how a story breathes life into these seemingly rigid frameworks. The second half of Story Maps consists of case studies: Calvisi picks apart pilot scripts of eight well-known TV shows and decodes their story maps in excruciating but insightful detail.
Much like Cron's work, Calvisi's Story Maps can be used as a workbook and guide. Both books are pleasant reads and not just formulaic collections of charts, notes, and key words. I would highly recommend Calvisi's very specific Story Maps to people interested in screenwriting and Cron's more broadly conceptualized Story Genius to anyone interested in storytelling and creative writing in general.
Remember: We're all wired for story.
533 Total Views, 2 Views Today