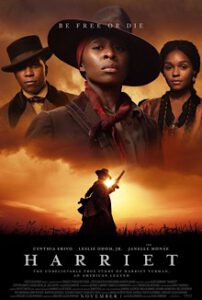 It's not easy to make a biopic that pleases the critics. And, to some extent, Harriet, directed by Kasi Lemmons, falls into that category. Harriet weaves together facts about Harriet Tubman's life into a compelling story, but some critics are not so enthusiastic about the film's aesthetic qualities. In Harriet, there are no truly unusual composition of shots or camerawork the likes of 12 Years a Slave, and the physical horrors of slavery receive almost no screen time, leading some to wonder if audiences are sophisticated enough to fill in the gaps. The audience sees, for example, the scars of brutal beatings without any supporting dialogue. Thankfully, Lemmons resists the temptation to take an overly didactic or 'preachy' approach. Any aspects of slavery – and there are several – that the film does not cover can be dealt with as film preparation. It is unrealistic to believe that one film can show all there is to show about slavery. It's not the focus of the film anyway. This is in, the words of its director, a "freedom film."
Both of these so-called limitations that I've just mentioned, however, make the film accessible to audiences of all ages and backgrounds. They further make Harriet, rated PG-13, an excellent film to explore with EFL students in upper-secondary schools, especially since teachers are deeply concerned about the impact of media violence on young people. Let's face it, some scenes in 12 Years a Slave, rated R, may overwhelm or traumatize teenagers. Before outlining further reasons for using the film in the (German) EFL classroom and providing some original teaching materials for this action-packed film, let's preview the trailer and get a taste of the experience:
Simply put, Harriet is a film begging to be taught in school. First, in a recent blog, I explored the controversy of placing Harriet Tubman on the twenty-dollar bill now set for 2030. The currency redesign is an open invitation to study Harriet Tubman's life and contributions to American society. While Black History Month is a wonderful time to explore African American achievements, it also is crucial to delve into these topics at times other than in February. Second, the commemoration of the emancipation of African American slavery on Juneteenth – now a federal holiday in the U.S. – makes the film more relevant than ever. Harriet definitely celebrates the life of its protagonist. Third, Harriet reintroduces one of America's iconic heroes to new generations of all ages. One can never have enough role models, especially since the presence of African American female ones in history books or popular culture is extremely limited. Closely tied to this point is the debunking of the ideas that Abolitionists were only White and that slaves were only victims. Harriet highlights numerous Black resistors, both male and female, their contributions, and the sacrifices they make for the cause. Fifth, Lemmon's film also poignantly shows the harmful effects of slavery on the family, fostering empathy for Blacks. And finally, Harriet centers on becoming morally courageous, taking responsibility for others, and fostering social change. These are fundamental tenets of citizenship in a democracy. The times we live in constantly remind us how delicate democracies around the world are. In Harriet Tubman's words: "Every great dream begins with a dreamer. Always remember, you have within you the strength, the patience, and the passion to reach for the stars to change the world."
Let's now take a look at a few free teaching resources to get the classroom discussion going. Apart from comprehension questions that can be found on Quizlet, there are two wonderful websites with a plethora of ideas: David Forrest's post on the National Council for the Social Studies's website and Teach with the Movies's worksheets on historical fiction and cinematic effects. I've also attached my worksheet that provides a definition of biopics and offers students prompts, such as character names, film quotes, themes, and more as a means to discuss aspects of the film they are interested in. Over the years, I've learned that we don't have to analyze every aspect of a film to have a meaningful discussion. Less is sometimes more.
This approach may be somewhat more chaotic than traditional methodology as students don't have to discuss the film in chronological order and can skip over topics that seem obvious or less pertinent. In other words, students have the freedom to concentrate on the topics they find important, confusing, or aesthetic as a means to discover a possible essay topic. It puts them in charge of their learning. Of course, students should be properly introduced to the film's director, the topic of slavery, and the Fugitive Slave Act of 1850 before watching the film, but I'd keep the introduction to Harriet Tubman short. If students know too much about her before watching the film, the surprise of her superhero-like qualities may be lost or seem anticlimactic.
There's never a one-size-fits-all approach to teaching, and this film is both long – 205 minutes to be exact – and imperfect, but the advantages by far outweigh the disadvantages. The current curriculum is full of material that focuses primarily on the horrors of slavery. It's time to turn our attention – in honor of our newly established federal holiday – to a "freedom film."
6,903 Total Views, 168 Views Today