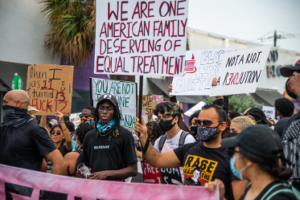 When I was five years old, I announced my new discovery: "Negroes (the polite term at the time) are bad." My parents tried to correct me, but I felt my logic was unshakable: When the radio reported a crime, the perpetrator was often black. They never said that a suspect was white. I didn't know any black people in our segregated town, but I knew many white people, and none of them were criminals. This was an open-and-shut case in my five-year old's mind.
A few weeks later, my father took me downtown to see a parade. He struck up a conversation with a black woman we were standing next to. She had a baby, who captured my interest, though I was more entranced by her Kraft Caramels (my favorite candy at the time) she shared generously with me. This, of course, completely shattered my baby bigotry.
When I was approaching middle age, I reflected on the incident. Only then did I realize that when I was young, parade-viewing areas – as well as everything else – were strictly segregated in Enid, Oklahoma. It must have taken some planning and more than a small amount of courage to arrange for us to stand in the "colored area" next to a friendly woman who just happened to have a cute baby and my favorite candies.
The issue of race did not come up often in our small, mostly white town (at least not in the white community), so I had little need to reflect on what I had learned until Emmett Till's murder on August 28, 1955, made national news and provoked national outrage.